Watch Morgan Freeman Walk In, Grab Girl Scout Cookies And Walk Out At The Oscars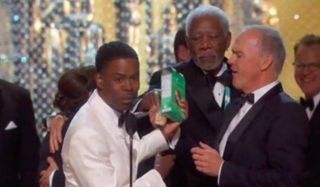 Morgan Freeman's stint at the Oscars on Sunday night might have been short but it was still oh so sweet to see the legendary, gravely voiced thespian. Just moments after announcing that Spotlight was the 2016 Best Picture winner, Morgan Freeman graciously stepped to the side to allow Tom McCarthy and his team to saviour and enjoy the moment. However, when Chris Rock headed back to the microphone while holding onto a pack of cookies to bring the evening's shenanigans to an end, Freeman immediately made a beeline to the comedian to steal some. And it made for awesome viewing. Don't believe me? Then take a look below.
Told you. But why was Chris Rock holding onto a pack of girl scout cookies while on stage at the Dolby Theatre? Well for those of you that didn't watch the 88th Academy Awards, which, according to viewing figures, was actually quite a few of you, earlier in the night Chris Rock invited a hoard of Girl Scouts to sell cookies to the star-studded crowd. The Girl Scouts did very well for themselves in the end too, as they went on to amass over $65,000 in donations.
It's not yet been revealed if Morgan Freeman donated any money to the Girl Scouts, or if he cheekily stole a handful of cookies without paying for them. Hopefully it was the latter, because that would make Morgan Freeman, who previously won a Best Supporting Actor Academy Award back in 2005 for his performance in Million Dollar Baby, an even cooler individual than I'd previously assumed. And, let me make it perfectly clear, I already believed that Morgan Freeman was about as cool a person as could have ever been invented.
But it wasn't just Morgan Freeman who stole Girl Scout cookies from Chris Rock's hand. Because Spotlight's Michael Keaton took time away from rejoicing in its Oscar success with his fellow cast and crew to take some, too. I'm going to assume that he was just trying to line his stomach before a night of heavy boozing and celebrating began, though.