Yes, Alicia Vikander Won An Oscar For The Right Movie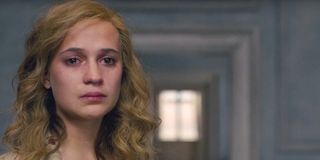 Those of you watching the 88th Academy Awards just saw Alicia Vikander pick up the first acting Oscar of the night for her performance in The Danish Girl. Having appeared in four films throughout the course of 2015, each of which increasingly elevated the Swedish actress' reputation in Hollywood, it's rather fitting that her year has been capped with this accolade.
However some moviegoers have been insistent that Alicia Vikander deserved her nomination and now award for her performance in Ex Machina and not The Danish Girl. In my humble opinion, they're wrong. In fact, with her performance in The Danish Girl, Alicia Vikander gave a performance of such depth, complexity, and magnetism that it even evoked memories of Meryl Streep.
While Eddie Redmayne drew most of the plaudits for his second towering performance in as many years , following his own Oscar-winning stint in The Theory Of Everything, it was Alicia Vikander who truly carried the emotional heft of The Danish Girl.
In The Danish Girl, Alicia Vikander could have just repeatedly broken down in waves of tears and made it uncomfortable, maybe even unbearable, to watch. But instead she portrayed the weight of the film in such a patient, subtle, and increasingly engrossing fashion that it not only made you immediately resonate to what her character of Gerda Wegener was going through, but it also made viewers understand and relate even further with Eddie Redmayne's Lili Elbe too.
Alicia Vikander even eclipses her more renowned co-star in The Danish Girl. That's not to dismiss Eddie Redmayne's portrayal in the biopic, though, which I believe actually excels his own turn as Stephen Hawking last year that led to him receiving so many awards. But Alicia Vikander is just so utterly heart breaking and intimate in the film that you simply can't take your eyes off her.
Credit: ABC/Image Group LA
Alicia Vikander has continually impressed over the course of the last 12 months whenever she has popped up on screen. Even in Burnt and The Man From U.N.C.L.E., both of which were mostly dismissed by critics and audiences alike. But it was her turn as Ava in Ex Machina at the start of 2015, where she coyly coiled the audience around her finger before toying with them and making them feel perennially unsettled that teased she would soon be a formidable Hollywood presence. As great as her performance was in that bit of sci-fi awesomeness, however, it was really her turn in The Danish Girl that we walk away from 2015 talking about.
With a co-leading turn in Jason Bourne on the horizon, Alicia Vikander 's status is now only likely to increase tenfold. But, even as her career reaches new peaks, it will take something special to top her portrayal in The Danish Girl. The exciting thing is though, at 27-years-old she's probably only just beginning.
Your Daily Blend of Entertainment News
Thank you for signing up to CinemaBlend. You will receive a verification email shortly.
There was a problem. Please refresh the page and try again.