Watch Star Trek Beyond Blow Up Part Of Its Set In Latest Video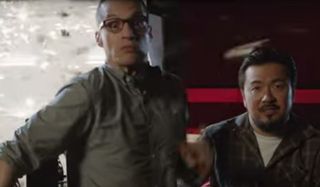 Building a movie set for a blockbuster is really, really expensive. It's not the sort of thing that you can mash together with paper mache and paint. Well, you can, but audiences are bound to notice. But even though the set for Star Trek Beyond probably cost hundreds of thousands of dollars to make, the crew couldn't resist the opportunity to blow up a part of it just for a joke. Which they each deserve massive kudos for. Watch, laugh, and enjoy, below:
Whoever co-ordinated and led that delicious prank needs to be given a strong, celebratory pat on the back, because the world needs to see more of these kind of childish, stupid, and quite dangerous jokes. Especially since they provoked such diametrically opposed reactions from director Justin Lin and host Ryan Cummins.
Meanwhile, my reaction to the clip can be summed up by this gorgeous GIF that everyone should immediately thank me for bringing into their lives:
I actually feel rather bad for Ryan Cummins. Yes, he leapt into the air like a salmon on a trampoline holding onto a pole vault just because of a huge, loud, explosion that erupted behind him. But he was actually in the process of explaining to viewers how they could win a competition to have a walk-on role in Star Trek Beyond.
This weekly competition sees fans randomly selected to become honorary crew members during the production of Star Trek Beyond, and Justin Lin will even allow them to call "action" on a scene. Anyone who manages to convince the director to change a shot or line of dialogue won't win any money or even a prize from myself, but they'll certainly get mad props.
Unfortunately, the competition was slightly overshadowed not just by Ryan Cummins' rather cowardly reaction, but by the fact that Justin Lin managed to stand strong and unmoved as if nothing had actually happened.
Meanwhile, Omaze's video also gave us a quick look at the cast of Star Trek Beyond gathered together, including a glimpse of Idris Elba, who is believed to be playing the film's villain, seated at the controls of the Enterprise.
I'm going to guess that the actor was simply sitting there to catch a quick rest during a hectic day of shooting rather than this being a tease that he takes the intergalactic vehicle out for a joyride around the galaxy. But one can still hope that the latter proves to be true. We'll find out when Star Trek Beyond is released on July 8, 2016.
Your Daily Blend of Entertainment News