Watch The Transformers Ruin Inception, Titanic And All Of Our Favorite Movies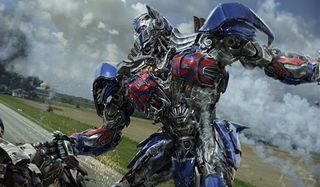 Over the course of four gigantically obscene entries, Michael Bay's Transformers film franchise has collectively grossed nearly $4 billion. It's a crushing colossus that callously walks across box-office surfaces to the sound of trembling Earth as it smashes its competition to bits. Yet, the only real takeaway from the films is that they break the world to bits in each entry. Now, thanks to this hilarious supercut, we get to see an array of our favorite films suffer their wrath!
Cleverly cobbled together by Montreal filmmaking collective Boo Ya Pictures for Funny or Die, this magnificent montage showcases the rampant, reckless rampages perpetrated on the world by those robots who are supposed to be "in disguise." The clip not only brilliantly ruins indelible moments in recent cinematic history, it also serves to isolate the clear quintessence of the Transformers franchise, metaphorically illustrating what it does to its box-office competition who had the temerity to go up against it with their fancy "plots" and "meaning."
Yes, the signature handiwork of the one and only Sultan of 'Splosions, Michael Bay, is showcased perfectly, depicting the Autobots and Decepticons of his films as proverbial bulls in the china shop of the world. No film was safe from having their supposed destinies sent to an explosively anticlimactic blaze of nothingness. The bus from Speed that famously had to stay above 50 mph to avoid exploding only needed to be in the general vicinity of some Transformer action to prematurely spoil the sinister machinations of Dennis Hopper's mad bomber. The road trippers from Little Miss Sunshine also learned that the hard way. Plus, the gang from Inception would get more of a "kick" than they wanted, thanks to the awesome indifference of enormous anthropomorphic automatons.
Several others would suffer similar fates, including baby ducks! However, the supercut clearly saved the best unbridled best for last when the unchecked incidental occurrences related to any and all things Transformers would culminate in changing the ending to Titanic to which history once supplied the spoiler. It looks like Celine Dion no longer has to worry about where her heart would go on, seeing as the Titanic managed to avoid its fateful collision with the iceberg. Yes, it seems that one helpful Transformer decided to literally take the doomed vessel's fate in its hands and deliver it to port… by tossing it into the middle of a street. To quote Cheech Marin in his Ghostbusters II cameo after a ghost ship of the Titanic arrived at the harbor, "Better late than never."
Of course, the wanton destruction is only set to continue. Why? Did we mention the nearly $4 BILLION dollars this franchise has made? Yes, it does appear that last year's fourth film, Transformers: Age of Extinction, would serve as a rejuvenation point for the series. It will apparently move forward, although it still remains in question if Michael Bay, certainly returning as a producer, will return to the helm as director. While no dates have been locked down for the fifth film, as of yet, some of your other favorite movies may want to watch their backs.
Your Daily Blend of Entertainment News