This Week In Home Entertainment: 300: Rise Of An Empire, Winter's Tale And Masters Of Sex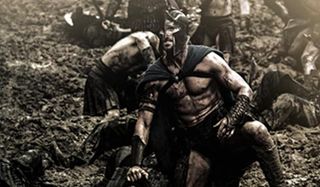 300: Rise of an Empire Blu-ray
It's been more than seven years since 300 graced movie screens across the country. Its sequel, 300: Rise of an Empire, looks as fabulous on Blu-ray as its big screen counterpart. Unfortunately, its story is a little less inspired.
300: Rise of an Empire's is neither a prequel nor a sequel to round one. Instead, events take place on a long-winded timeline spanning many years and featuring many of the same characters from the earlier film. This story follows the rise of Persian leader Xerxes, focusing on a fight led by General Themistocles (Sullivan Stapleton) on the Greek side and a Greek-turned-Persian female general named Artemisia (Eva Green, who naturally gets nude for the umpteenth time in this film). The confusing timeline relation to the first film is not its only drawback. 300: Rise of an Empire features some strange pacing and outlandish dialogue.
While Artemesia and Queen Gorgo (Lena Headey, reprising her role) bring an exciting level of female agression into the plot, the two women almost feel as if they were shoehorned in to prove that females can kick ass, too. Headey, especially, is such a weird addition this time around, narrating the story, but popping up from time to time, too, sometimes to actually fight. Fortunately, some of the scenes with the lead females do work, and the special effects are every bit as good as the first installment. So, there are probably a lot of fans out there who will really enjoy Rise Of An Empire.
Best Special Feature: The best special feature is, without question, "Savage Warships". The naval battles in the film are incredible. They're visually marvelous, and this featurette gives a great little background on how everything was created. It also offers Ben-Hur references and a great little moment in the sun for the behind the scenes crew that crushed it on this film.
Other Bonus Features:
Behind The Scenes: The 300 Effect
"Real Leaders & Legends"
"Women Warriors"
"Becoming A Warrior"
Masters of Sex: Season 1 DVD
Masters of Sex is a kinky and curious show following the rise of William Masters and Virginia Johnson, two interested and interesting people studying sex during a period when American couples often slept in different beds at night. The brashness of the chaste world of upper class incomes and medical science versus Masters of Sex's behind-the-scenes experiments maintains interest over the course of its 12 first-season episodes.
While Masters of Sex features a large supporting cast, the show mostly focuses on Masters (Michael Sheen) and Johnson (Lizzy Caplan), as they navigate the waters of putting together an unapproved university study on sexual behavior. The doctor and his assistant make for an odd couple. She's kind and smart and puts people at ease, while he has a tendency to make those around him feel wary. Both are ambitious, though, and both prove they have trouble separating their work lives and their personal lives.
Sony Pictures Home Entertainment's set isn't nice enough that Masters of Sex will sit proudly on the good part of your DVD shelf. However, performances from Sheen and Caplan, as well as Beau Bridges, Annaleigh Ashford, Nicholas D'Agosto and Caitlin Fitzgerald do leave an impression, and should be worth revisiting every now and again.
Best Special Feature: The "Making of Masters Of Sex" touches on the original work but also on the casting process. It delves into how Michael Sheen was unavailable but everyone involved got so excited about him, they put off production in order to accommodate him. That was arguably the production's most important choice, though deciding Lizzy Caplan, a very modern girl, could work in the 1950s was a close second.
Other Bonus Features:
Cast & Crew Commentary
Deleted Scenes
A Masterful Portrayal: Michael Sheen as Dr. Masters
Ahead of Her Time: Lizzy Caplan as Virginia Johnson
Winter's Tale Blu-ray
There's a certain appeal to a romances built around emotional honesty and filled with characters laying all of their feelings, all of their baggage and all of their hopes right out on the table. Winter's Tale is one of those movies, highlighting a romance that lasts through time and space, amidst a battle of demons and angels fighting for control on Earth. Unfortunately, while the characters in Winter's Tale hit the right notes, the fantastical elements making up the bulk of Akiva Goldsman's latest film are not nearly as credible.
Colin Farrell and Jessica Brown Findlay star in the audacious Winter's Tale as Peter Lake, a thief and former gang member just waiting to produce a miracle and Beverly, an upper crust young pianist who also happens to be dying of consumption. Theirs is a doomed romance, but watching it blossom is where director Goldsman's vision is at its best. They meet cute when he has plans to rob her home, but he changes his mind when she asks him to tea. Their romance is filled with a bunch of beautiful period frippery, but Peter and Beverly's situations also enable them to be honest and clear cut about their needs and wants.
Unfortunately, right around this time the demons become a real problem. Peter's a man with a miracle, a concept that gang boss Pearly Soames (Russell Crowe) wants to crush by any means. I could take a mob boss chasing after a former minion, but when Winter's Tale juxtaposes its 1800s reality with winged horses, time hopping and demonic rules and regulations, it gets pretty weird. Even many people who enjoy fantasy aspects might find themselves put off by they way those ideas are incorporated into Winter's Tale.
Collin Farrell's great in almost anything he commits to and Winter's Tale is no exception; however, the movie still won't go down in the books as something memorable. You can catch the flick and decide for yourself over at Amazon (opens in new tab).
Best Special Feature: If you weren't sure whether or not Winter's Tale was about love, "A Timeless Love" will more than clear that up. The stars hammer that home during the featurette, talking about the novel and how romantic the work is. For those who don't get the movie, it'll probably come off as annoying and indulgent, but for those who went with the movie, they'll appreciate how the actors felt the exact same way.
Other Bonus Features:
Characters Of Good And Evil
Additional Scenes
Other June 24 Releases
Blood Ties
Unforgettable: The Second Season
Duck Dynasty: Season 5
Star Trek: The Next Generation- Season 6
Your Daily Blend of Entertainment News
Reality TV fan with a pinch of Disney fairy dust thrown in. Theme park junkie. If you've created a rom-com I've probably watched it.