Weekend Box Office - Eagle Eye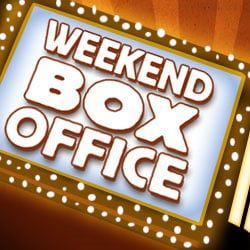 Eagle Eye hit the streets this weekend with a vengeance, drawing in the largest audiences since Mummy 3marked the end of summer blockbusters. With nearly $30 million it's the fourth largest September opening of all time, right behind The Exorcism of Emily Rose which took in $30.2 million in 2005.
The teaming of Richard Gere and Diane Lane for the latest fomulaic romance film Nights in Rodanthe came in a very distant second with $13 million. Though critics, most of whom panned Rodanthe, would have a tough time with comparisons to acclaimed flick The Notebook audiences were more forgiving. Notebook opened to $13 million as well.
Of coures, Notebook went on to win several prestigious awards including the MTV Award for Best Kiss and the Teen Choice Awards for Choice Movie Chemistry, Choice Movie Liplock and Choice Movie Love Scene. Don't expect Rodante to garner such honors. Love movies aren't so cool with the kids when the lovemakers are within shooting range of AARP membership.
Kirk Cameron's latest film, which was also produced by the Christian group that funded Facing the Giants, took advantage of the slow September to sneak into the top five. On a budget of less than a million dollars and showing in less than a thousand theaters, the movie still hit fourth place with $6 million. Though critics generally haven't been weighing in on the movie, the web site proudly touts Vice President of Chic-Fil-A's seal of approval. What greater endorsement could you possibly need?
Spike Lee's latest joint (is he still calling them joints? I can't keep track) didn't fare so well. Spike blew $45 million on his litte project and managed to see a release in just over a thousand theaters. He lapsed in with $3.5 million and ninth place.
The decade's bigget cash cow, The Dark Knight finally saw a weekend outside of the top ten. After ten weeks on the chart, it plummeted from ninth to thirteenth place. Closing in on a final total somewhere near $540 million, it's set records not likely to be broken until ticket prices hit $20 a pop.
Swipe to scroll horizontally
1.
Eagle Eye *
$29,200,000 - Total: $29,200,000
LW: N WR: 1
THTRS: 3510
Swipe to scroll horizontally
2.
Nights in Rodanthe *
$13,570,000 - Total: $13,570,000
LW: N WR: 1
THTRS: 2704
Swipe to scroll horizontally
3.
Lakeview Terrace
$7,000,000 - Total: $25,700,000
LW: 1 WR: 2
THTRS: 2467
Swipe to scroll horizontally
4.
Fireproof *
$6,514,000 - Total: $6,514,000
LW: N WR: 1
THTRS: 839
Swipe to scroll horizontally
5.
Burn After Reading
$6,169,000 - Total: $45,540,000
LW: 2 WR: 3
THTRS: 2649
Swipe to scroll horizontally
6.
Igor
$5,500,000 - Total: $14,339,000
LW: 4 WR: 2
THTRS: 2341
Swipe to scroll horizontally
7.
Righteous Kill
$3,803,000 - Total: $34,805,000
LW: 5 WR: 3
THTRS: 3011
Swipe to scroll horizontally
8.
My Best Friend's Girl
$3,800,000 - Total: $14,529,000
LW: 3 WR: 2
THTRS: 2636
Swipe to scroll horizontally
9.
Miracle at St. Anna *
$3,501,000 - Total: $3,501,000
LW: N WR: 1
THTRS: 1185
Swipe to scroll horizontally
10.
Tyler Perry's The Family That Preys
$3,160,000 - Total: $32,796,000
LW: 6 WR: 3
THTRS: 1604
Your Daily Blend of Entertainment News