Weekend Box Office: Jurassic World Smashes Global Opening Record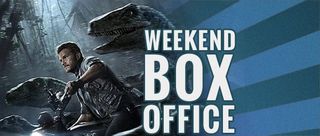 It's been almost 14 years since we last had an entry from the franchise that introduced the world to CG dinosaurs, the longest dino-drought since the original Jurassic Park dominated theaters in 1993. Thirsty for more, and further drawn in by Hollywood's latest, hot hero-action star Chris Pratt, audiences couldn't get theaters to take their money fast enough as they lined up for the fourth franchise entry, Jurassic World.
World danced around several different records over the weekend, finally taking third highest opening Friday ever (behind Harry Potter and the Deathly Hallows, Part 2 and Age of Ultron which banked $91 million and $84 million respectively), second highest opening weekend ever (World's $204 million debut falling just short of The Avenger's $207 million start) and second highest foreign opening ($307 million against Harry Potter and the Deathly Hallows, Part 2's $314 million).
But where Jurassic World took top honors was in the realm of world-wide debut totals. Its combined $512 million global opening weekend total is not only the highest, but the first time a movie has banked more than a half-billion dollars in one weekend.
The totals are impressive, but due in no small part to the high ticket prices people were willing to pay to experience the movie at its highest entertainment potential. According to Box Office Mojo, around one half of tickets sold internationally were for 3D tickets, which often go for 50% higher to double the price of regular tickets.
World's staggering success marks a strong rebirth for the franchise which dwindled from Jurassic Park's $357 million domestic total (a near record back in 1993) down to Jurassic Park III's $181 million. The Universal machine was likely already at work pulling strings for a sequel, but it wouldn't be unlikely to hear that after this weekend they're lining up writers for a chain of them.
Buried deep beneath all the dino excitement, Brian Wilson biopic Love & Mercy banked enough this weekend to eek up into the number ten spot. Widening to just over 500 screens, it's not likely to re-appear on the chart again, but few movies in such small release but with such critical acclaim make the top ten, so it's worth a quick nod.
For the full weekend top ten, check out the chart below:
1.
Jurassic World *

$204,600,000Total: $204,600,000LW: N
THTRS: 4,274
2.
Spy

$16,000,000Total: $56,937,000LW: 1
THTRS: 3,175
3.
San Andreas

$11,010,000Total: $119,321,000LW: 2
THTRS: 3,535
4.
Insidious Chapter 3

$7,300,000Total: $37,371,000LW: 3
THTRS: 3,014
5.
Pitch Perfect 2

$6,000,000Total: $170,715,000LW: 6
THTRS: 2,677
6.
Entourage

$4,340,000Total: $25,870,000LW: 4
THTRS: 3,108
7.
Mad Max: Fury Road

$4,130,000Total: $138,608,000LW: 5
THTRS: 2,234
8.
Avengers: Age of Ultron

$3,641,000Total: $444,743,000LW: 8
THTRS: 2,156
9.
Tomorrowland

$3,417,000Total: $83,607,000LW: 7
THTRS: 2,540
10.
Love & Mercy *

$1,765,000Total: $4,774,000LW: -
THTRS: 573
Your Daily Blend of Entertainment News
Thank you for signing up to CinemaBlend. You will receive a verification email shortly.
There was a problem. Please refresh the page and try again.