Weekend Box Office: X-Men Apocalypse Takes A Hit Despite Number One Opening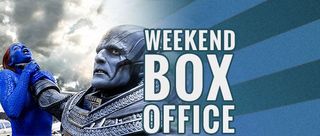 Everyone expected X-Men: Apocalypse to be the number one movie this weekend, but whether audiences were busier than usual this Memorial Day weekend or just burnt out on comic book movies this year, they didn't turn out nearly as well as they did for X-Men: Days of Future Past.
Apocalypse came in at $65 million for the three day weekend and will likely climb to between $80 and $85 million when Monday's sales are added in. Both of those numbers are down from Days of Future Past which earned $90 million over its regular three day opening in 2014 and pushed to $110 million over the four day holiday weekend.
Barely at the end of five months into the year, X-Men: Apocalypse is already the fourth comic movie in theaters. Not only is it the lowest opening of those four, it's the only one to fail to break $100 million (Captain America: Civil War - $179 million, Batman v Superman - $166 million, Deadpool - $132 million. The opening is also well below Disney's two big hitters of the year so far (The Junglebook - $103 million, Zootopia - $75 million.
This opening spells disappointment for Fox which had been looking for a continued climb in the franchise. X-Men: First Class, a sort of re-boot for the series, opened in 2011 with $55 million and Days of Future Past built on that with $90 million. The slip back to $65 million (and a matching decrease on the international side) certainly doesn't spell, but puts more pressure on Fox's Marvel franchise which is up against Disney's Marvel franchise.
Speaking of franchises under pressure, Alice Through The Looking Glass has started off in dangerous waters. Through The Looking Glass opened in second place with just $28 million, a steep drop from the $110 million debut of 2010's Alice In Wonderland.
Even with international sales to date, Alice Through The Looking Glass is only at $93 million against a $170 million budget, meaning profitability will be low and any thoughts of future adventures are slipping down the rabbit hole.
For the full weekend top ten, check out the chart below:
1.
X-Men: Apocalypse *

$65,000,000Total: $65,000,000LW: N
THTRS: 4,150
2.
Alice Through the Looking Glass *

$28,112,000Total: $28,112,000LW: N
THTRS: 3,763
3.
The Angry Birds Movie

$18,700,000Total: $66,353,309LW: 1
THTRS: 3,932
4.
Captain America: Civil War

$15,135,000Total: $372,610,948LW: 2
THTRS: 3,395
5.
Neighbors 2: Sorority Rising

$9,100,000Total: $38,336,580LW: 3
THTRS: 3,416
6.
The Jungle Book (2016)

$6,967,000Total: $338,478,909LW: 5
THTRS: 2,523
7.
The Nice Guys

$6,370,000Total: $21,733,672LW: 4
THTRS: 2,865
8.
Money Monster

$4,250,000Total: $33,902,226LW: 6
THTRS: 2,315
9.
Love & Friendship

$2,496,000Total: $3,489,548LW: 14
THTRS: 493
10.
Zootopia

$831,000Total: $335,874,645LW: 8
THTRS: 572
Your Daily Blend of Entertainment News