What Daisy Ridley Is Going To Do The Day Star Wars 7 Opens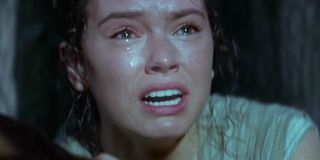 The anticipation for Star Wars: The Force Awakens is killing you. It's OK; we know it is because we feel the same way. Chances are you have already planned out how and where you will see it when the film premieres next month. Now it seems even Daisy Ridley have plans of their own.
Appearing in a new interview with ASOS, Ridley – who plays new Star Wars character Rey in The Force Awakens -- was accompanied by fellow Star Wars newcomer John Boyega as they opened up regarding what they will do the day Star Wars: The Force Awakens comes to theaters. Ridley's plans are as follows:
Based on the promotional materials that have been released for the film thus far, Rey seems to be pretty firmly established as one of the film's core protagonists. As such, it seems unlikely that fans will dislike her based off of her moral affiliation in the film. Which means that she's mostly concerned with whether or not fans will respond positively to her performance as the character.
It's not an off-base hope, considering the franchise has been responsible for creating beloved and reviled characters in equal measure. Following this statement, ASOS was kind enough to insert the Wilhelm screen into the interview – a trademark of the Star Wars films – which has us hoping that doesn't signal anything ominous for Daisy Ridley or her character. Ridley's concerns for the film seem to mirror our own, as we hope we like her too.
Compared to Ridley, John Boyega – who portrays the possible Jedi, Finn, in Star Wars: The Force Awakens – maintains his composure a little more, stating that he would watch the movie at a local cinema to be among the fans that have waited so long. His enthusiasm stems from his desire to see the Star Wars saga brought back to the big screen properly. That being said both of the actors seem equally nervous and excited about what is coming. Seldom has a film maintained such widespread anticipation prior to its release, although according to what Harrison Ford said last week when he appeared on Jimmy Kimmel Live!, we won't be disappointed.
You can check out the whole interview below to see the other questions the two young actors answered:
Only time will tell if audiences respond well Daisy Ridley and her character Rey. The film has a great deal of anticipation to live up to, and much of it has been placed upon the shoulders of two relatively unknown actors. Star Wars: The Force Awakens hits theaters on December 18 – but odds are you already knew that.
Originally from Connecticut, Conner grew up in San Diego and graduated from Chapman University in 2014. He now lives in Los Angeles working in and around the entertainment industry and can mostly be found binging horror movies and chugging coffee.
Your Daily Blend of Entertainment News
Thank you for signing up to CinemaBlend. You will receive a verification email shortly.
There was a problem. Please refresh the page and try again.