What Infuriates Meryl Streep About Film Critics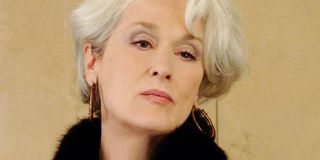 As a living Hollywood legend, Meryl Streep has become a champion for women throughout the film industry. While she has most certainly risen above many of the obstacles and trappings that plague members of her gender, she has some strong words for film critics.
According to The Hollywood Reporter, Streep recently spoke during a press conference for Suffragette at the BFI London Film Festival, and vocally lashed out at the notable gender disparity among film critics. Streep refers to the imbalance in the sheer number of male critics versus female critics working today. As she pointed out, Rotten Tomatoes features 760 male critics on the site, while a mere 168 female critics are represented. Streep said:
Similarly, Meryl Streep cited that the website for New York Film Critics features 37 male critics and 2 female critics – a ratio of almost 10:1. Streep explained that such an imbalance has the effect of skewing overall opinions of movies; male critics will naturally gravitate towards male-oriented movies, ultimately providing a disproportionate amount of attention to those types of films.
Let's just use superhero films as an example – as they are all the rage. Elektra and Catwoman failed critically, effectively putting female-fronted superhero films on ice for years. On the other hand, numerous male superheroes – like The Punisher, Spider-Man – have received numerous reboots when entries in their franchises did not go over well with critics.
Gender problems such as these exist in numerous other corners of the film industry as well. A few months ago, news broke that Maggie Gyllenhaal – an Oscar nominated actress – had been deemed "too old" to play the love interest to a 55-year-old man. It's worth noting that Ms. Gyllenhaal is close to two decades younger than her male counterpart. Such an issue would most certainly not have occurred if the genders had been reversed. Similarly, Sandra Bullock recently made headlines for obtaining the lead role in Our Brand Is Crisis, despite the fact that the role had initially been written for a man. While this is great for Bullock, the very fact that such an event was deemed newsworthy highlights an inherent inequality that needs to be addressed within the film industry.
As an icon in the world of film, there's hope that Meryl Streep's words on film critics could bring out some sort of effective change towards perceived Hollywood sexism. Until then, moviegoers can use their own collective influence to show the industry that both genders have an equal say at the box office.
Your Daily Blend of Entertainment News
Originally from Connecticut, Conner grew up in San Diego and graduated from Chapman University in 2014. He now lives in Los Angeles working in and around the entertainment industry and can mostly be found binging horror movies and chugging coffee.