What Kelly Clarkson Actually Thinks Of From Justin To Kelly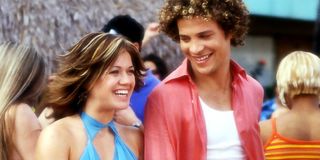 Remember From Justin to Kelly, the film that put the "hor-" in "horrendous" and starred Kelly Clarkson and Justin Guarini? For those needing a refresher, it was released in 2003 after Clarkson won the first American Idol. Fox wanted to capitalize on all the hype, even after the 25-episode first season, so they stuffed Clarkson into a movie with the runner-up. Nearly 12 years after the film debuted, Clarkson revealed what she really thinks about From Justin to Kelly.
In an interview with Rolling Stone, the magazine asked if it was time for her to burn all copies of the film, which made her laugh. She replied:
From Justin to Kelly starred the two American Idol contestants as themselves. It featured a story about two young people — a waitress from Texas and a college student from Pennsylvania — who meet and fall in love during Spring Break through their mutual love of singing. As we mentioned, this was a really long time ago and Clarkson was probably swept up in the hype of having just won the biggest reality talent competition show of the decade. Still, you can tell just by watching the trailer that this is something she wants buried underneath a mile of rubble.
She spoke about the film earlier this year with Time magazine, and the way she described her experience with it made it sound like a porno she was trying to keep from leaking. As she said, semi-joking, she has no plans to show her daughter, River Rose, From Justin to Kelly, and she pretends it doesn't exist, adding, "I just want it to go away."
Despite this early setback in her career, it all worked out in Clarkson's favor. She was the first and, depending on who you ask, the biggest American Idol success story. She released a slew of chart-topping singles and albums, and she's excited for what comes next, now that she has ended her six-album deal with RCA Records.
Your Daily Blend of Entertainment News