Upcoming Jennifer Lawrence Movies: What's Ahead For The Hunger Games Star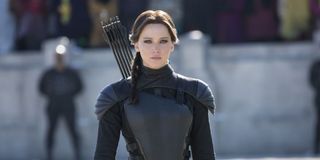 (Image credit: Lionsgate)
Have you been wondering where Jennifer Lawrence has been the last few years? It's a fair question after the meteoric rise for Lawrence that in a four-year span from 2010-2013 saw her go from a near unknown to a three-time Oscar nominee, the second-youngest Best Actress winner ever (Marlee Matlin still holds the record) and a star of two major franchises. She'd add another Oscar nomination in 2015 to become the youngest four-time Oscar-nominated actor ever for good measure.
But since 2016, we've only been treated to three Jennifer Lawrence movies. However, even with her last film coming back in 2019, she has always had projects in development, and as you'll see below, nearly all of them sound like they should be worth the wait. Here are Jennifer Lawrence's upcoming movies, including a film where she'll star alongside Leonardo DiCaprio.
Red, White And Water - 2021 - Post-Production
Red, White and Water is the film that could very well mark Jennifer Lawrence's return to the big screen. Deadline first reported on the film in April of 2019. While there is no word on an official release date, Red, White and Water is expected to be released in 2021.
Jennifer Lawrence is teaming up with acclaimed theater director Lila Neugebauer, in what will be her feature film debut, with the script from another first-timer, Elizabeth Sanders. Red, White and Water is under the experienced hands of producers Scott Rudin, Eli Bush and the A24 banner. Lawrence is also tapped as one of the film's producers.
According to IMDb, Red, White and Water will follow a U.S. soldier who suffers a traumatic brain injury while fighting in Afghanistan and then struggles to readjust to life back home. Some of Lawrence's co-stars in the film include Brian Tyree Henry, Samira Wiley and Stephen McKinley Henderson.
The film was shot in New Orleans during the summer of 2019. Assuming that it is ready to go, it could very well be a movie that hits the festival circuit sometime this year (in whatever form they are able to take) and be a possible contender for Lawrence and company to compete at next year's Oscars.
Don't Look Up - 2021 - Post-Production
It's the end of the world, and Jennifer Lawrence wants to make sure that we all feel fine. That is more or less the premise of Don't Look Up, which the Hollywood Reporter shared will star Lawrence alongside Leonardo DiCaprio as a pair of low-level astronomers who are tasked with going on a media tour to warn mankind of an asteroid hurtling toward the planet.
Written and directed by Adam McKay, Jennifer Lawrence and Leonardo DiCaprio already made for a star-studded leading pair, but they're just the tip of the iceberg. Joining Don't Look Up is a who's who of an A-list cast, including Meryl Streep, Cate Blanchett, Jonah Hill, Chris Evans, Timothee Chalamet (who Lawrence apparently makes out with in the movie), Ariana Grande, Kid Cudi, Matthew Perry and more.
Don't Look Up is part of Netflix's contribution to 2021 new movie releases, though no official release date has been announced yet and minimal footage has been shown, featured in a promo trailer of all of Netflix's 2021 titles.
Though not supposedly as action-packed as The Hunger Games franchise was for Jennifer Lawrence, she reportedly suffered an injury on set. Don't Look Up took a temporary break after Lawrence was said to have been hit with debris from a special effects explosion.
The film wrapped in late February, according to The Boston Globe, after three months of shooting.
Mob Girl - TBD - Pre-Production
After spending a huge chunk of her time in the 2010s making big-budget, franchise films, Jennifer Lawrence is seemingly making it a priority to work with interesting directors before possibly diving back into blockbusters. In addition to Adam McKay and Lila Neugebauer, Lawrence is slated to work with Paolo Sorrentino, the Italian director best known for the Oscar-winning The Great Beauty, the Michael Caine-led Youth and The Young Pope, starring Jude Law as the "hot Pope."
Variety reported Lawrence and Sorrentino were teaming up for an adaptation of the Pulitzer Prize-winning true-crime story Mob Girl by Teresa Carpenter. The story follows Arlyne Brickman, who after growing up around and marrying into the mob of Lower East Side New York City becomes an informant for the police.
Jennifer Lawrence, in addition to starring as Brickman, is slated to be a producer on the film via the production company that she set up with Justine Polsky, Excellent Cadaver.
To date, and according to IMDb, the only other cast member announced for the project is a young actor named Lucas Royalty, who will be making his feature film debut.
No word on when production will begin on this film. Sorrentino currently has a film in post-production, The Hand of God, that is expected to come out sometime in 2021.
Bad Blood - TBD - Announced
Even before Don't Look Up, Jennifer Lawrence and Adam McKay were already slated to work together on a film detailing the founder of the controversial blood testing company Theranos, Elizabeth Holmes, called Bad Blood.
As Deadline reported all the way back in 2016, Lawrence and McKay were teaming up on the project, which drew heavy bidding from studios, ultimately landing with Legendary. However, as Deadline shared at the time, there was language in the contract that allows McKay and Lawrence - who are both also serving as producers - to take Bad Blood elsewhere "should it not move forward quickly." Per IMDb, Legendary is still listed as one of the production companies.
But after five years with minimal movement on the project, and the duo of Lawrence and McKay tackling Don't Look Up first, another Elizabeth Holmes project is likely to be the first one to screens.
The Dropout is a Hulu series that will focus on Holmes and Theranos, with Amanda Seyfried just recently being cast as Holmes, via Variety, replacing SNL's Kate McKinnon.
It is unclear if The Dropout will have any impact on whether or not Lawrence and McKay move forward with Bad Blood.
If you can't wait that long to watch a Jennifer Lawrence movie, find out where you can stream some of her films or what our CinemaBlend writers think are the best Jennifer Lawrence movies.
Your Daily Blend of Entertainment News
D.C.-based cinephile. Will dabble in just about any movie genre, but passionate about discovering classic films/film history and tracking the Oscar race.