What X-Men: Apocalypse Has Planned For Mystique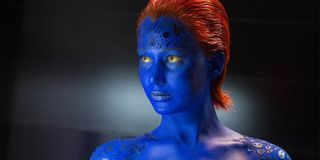 She may not be the mutant named in the movie title, but X-Men: Apocalypse is shaping up to be a Mystique-centered story. Last month it was revealed that the film would touch upon her relationship with Beast, and last week it was reported that the romance between her and Magneto would also be explored. Now Jennifer Lawrence has given a hint of the mutant's situation when viewers are reunited with her in the 2016 blockbuster.
While reaffirming the character's conflicting nature, Lawrence told IGN that Mystique won't be flaunting herself in public in 1983 - the confirmed setting of the upcoming sequel. Asked if she'll be playing a heroic or villainous role in X-Men: Apocalypse, the Academy Award-winning actress said,
Being a shapeshifter, Mystique is quite adept at hiding since she can easily blend into any crowd - but just because you can look like everyone else doesn't mean you can fit in, and it doesn't help that she's spent the majority of her life as an outsider. When we last saw her, she had foiled Magneto's assassination attempt on the president and resisted finishing the job herself. While that may have scored some points in her favor and led to the arrest of Bolivar Trask, pointing a gun at Richard Nixon has its consequences (not to mention all the other stuff she's done over the years). It remains to be seen whether she's still carrying out pro-mutant missions in secret, or if she's been maintaining a low profile for fear of reprisal from humans. Either way, when the titular ancient Egyptian mutant comes to dominate Earth, she'll presumably have to come out of hiding to help her former allies.
Maybe it's just me, but it seems like Mystique has been positioned as the unofficial "main character" of the First Class trilogy. While X-Men: First Class was largely a Magneto origin story and X-Men: Days of Future Past showed Charles Xavier embracing the "Professor X" role, Mystique's character development has progressed over multiple films. First Class showed her struggling with her mutation, she fought the urge to become a killer in Days of Future Past, and Apocalypse might see her finally figuring out the person she's meant to be. She's come a long way since the days when she was a quiet assassin for Magneto in the original X-Men movies... although considering the changes to the timeline, that version of Mystique will unlikely ever exist.
Your Daily Blend of Entertainment News
Connoisseur of Marvel, DC, Star Wars, John Wick, MonsterVerse and Doctor Who lore. He's aware he looks like Harry Potter and Clark Kent.