Chris Pine As Green Lantern? Here's The Real Story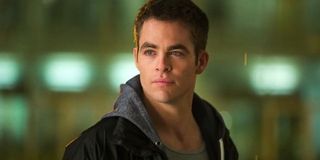 We are still over four years away from the release of The Green Lantern reboot, Green Lanter Corps, but that didn't stop rumors that Warner Bros. had found their perfect leading man in the shape of Chris Pine from emerging a couple months ago. That ultimately proved to be incorrect, as Pine instead agreed to play Steve Trevor in Wonder Woman, but was he ever actually close to taking the lead in the new Green Lantern? No. No he wasn't.
But don't just take it from me, take it from Chris Pine himself. That's because the leading man admitted that he never even had a conversation about starring in the impending Green Lantern Corps. Instead, it's clearly just been all about Wonder Woman. After being asked about his chances of starring in Green Lantern, Chris Pine told Collider:
Now, I'm a big Chris Pine fan. But I have to say I am rather relieved that he picked the role of Steve Trevor in the Wonder Woman franchise over that of the titular part in Green Lantern. Why? Because I believe that leading another franchise would have only tarnished both Green Lantern and Star Trek, the latter of which I hope he continues to lead for many years to come.
Instead, with Wonder Woman, Chris Pine is firmly playing second fiddle to that of Gal Gadot's titular heroine. Sure, both Steve Trevor and Hal Jordan are decorated pilots with similar backgrounds, but in Wonder Woman Pine will be reacting to the actions of the goddess, while in Green Lantern he would have led the way.
Having seen him to do that rather well in Star Trek and Star Trek Into Darkness – and again this summer in Star Trek Beyond – I'd rather see Chris Pine in a different kind of role. Which is certainly what the role of Steve Trevor will be, as Pine is likely to be more of a foil as he reacts to all the wonderment that Diana Prince will display.
Of course, Gal Gadot will make her debut in the DC Cinematic Universe in Batman v Superman: Dawn Of Justice, which is due out in just over two months on March 25. Chris Pine will next be seen in The Finest Hours, which is due out on January 29, while Wonder Woman's solo film will be released on June 23, 2017, and Green Lantern will hit cinemas on June 19, 2020.
Your Daily Blend of Entertainment News