Where The Ending Of Blade Runner Actually Came From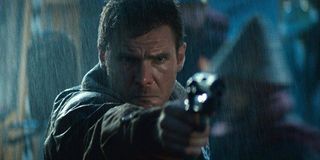 If you like stories that include one of the greatest filmmakers to ever step behind a camera helping out another director of the same ilk then this is right up your alley. That's because Sir Ridley Scott has admitted that the footage used at the end of Blade Runner was actually shot by Stanley Kubrick. Has your interest been piqued? Thought so.
Sir Ridley was explaining how the studio sent notes looking for a different, and more upbeat, ending to his Blad Runner. Rather than allowing Stanley Kubrick to come and take up the director's chair, Scott took advantage of the fact that he knew the legendarily meticulous Kubrick had shot hours upon hours of helicopter footage for The Shining. So he asked for some:
Just when you thought that Blade Runner's remarkable ending couldn't get any better, Sir Ridley Scott delivers a revelation that immediately makes it more intriguing. Blade Runner's conclusion is widely regarded to be one of the most discussed and debated in the history of cinema, because, depending on the version that you watched, it was heavily suggested that Harrison Ford's Rick Deckard was actually a replicant.
These discussions are likely to begin again anew now that a Blade Runner sequel has been confirmed, with production due to start on the follow-up in 2016. Not only is Harrison Ford going to briefly return as Deckard, but Ryan Gosling will take the lead role, with Denis Villeneuve directing, Roger Deakins working as cinematographer, and Sir Ridley Scott signed up as executive producer.
And fans will be glad to hear that Denis Villeneuve has already confirmed that Blade Runner 2 will answer the decades old question of whether Deckard is a human or replicant, insisting that even though he loves "mystery," "shadows," and "doubt" he wants to reassure fans that Blade Runner 2 "will take care of that mystery."
Sir Ridley Scott made the Stanley Kubrick admission while partaking in the recent director roundtable discussions conducted by The Hollywood Reporter, which saw The Martian filmmaker sit alongside Quentin Tarantino (The Hateful Eight), David O. Russell (Joy), Danny Boyle (Steve Jobs), Alejandro G. Inarritu (The Revenant), and Tom Hooper (The Danish Girl) to talk about all things film. Obviously, it's a must-read for anyone with even a passing interest in cinema, and the sextet deliver in spades.
Your Daily Blend of Entertainment News