Which Draft Day Scene Was Shot Down By The NFL?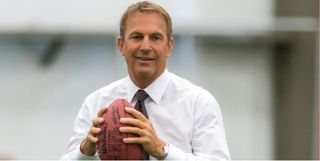 Ivan Reitman's Draft Day technically isn't a commercial for the National Football League… except that it is. Only because the league allowed the production to use virtually all of its images and likenesses as Kevin Costner plays the General Manager of the Cleveland Browns (the actual Cleveland Browns) standing at a crossroads on one of the biggest days of the NFL calendar.
But there was one scene where the NFL had to draw the line. As Costner tells it to the L.A. Times in an interview, a funny moment the actor liked a lot was "nixed" by the No-Fun League. It was a scene where Browns fans, furious with the decisions GM Sonny Weaver (Costner) has made, decide to hang his likeness in effigy. And the NFL… well, let's let Costner tell it.
It is strange to see so many elements of the NFL in play in Reitman's entertaining film. ESPN analysts Jon Gruden, Chris Berman and Mel Kiper are co-stars in the dramedy, which filmed actual scenes at the 2013 NFL Draft in Radio City Music Hall in New York City. And when Weaver makes calls to his colleagues, we get to explore the inner offices of teams like the Seattle Seahawks and the Jacksonville Jaguars.
It's much better than the bogus teams the Times points out that have "stood in" for NFL franchises in the past. Like when The Rock played for the Boston Rebels in The Game Plan:
Or the Washington Sentinels took the field in The Replacements. That name's less offensive than Redskins, though, right? NFL authenticity adds a cool element, however. Like when Rod Tidwell caught his legendary touchdown for the Arizona Cardinals against the Dallas Cowboys:
So for those keeping score at home, football players can look greedy on screen, but fans can't pretend to kill general managers. Duly noted.
Movie junkie. Infatuated with comic-book films. ReelBlend cohost. Resident dad. Extroverted introvert. Wants to see the Snyder Cut. Managing Director at CinemaBlend.
Your Daily Blend of Entertainment News
Thank you for signing up to CinemaBlend. You will receive a verification email shortly.
There was a problem. Please refresh the page and try again.