Why Audiences Rejected American Ultra, According To The Movie's Screenwriter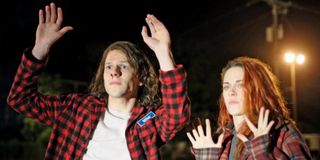 Max Landis has some choice words about the state of original concepts in movies. The screenwriter behind Chronicle and the James McAvoy-Daniel Radcliffe film Victor Frankenstein film saw his most recent work, American Ultra, hit theaters this past weekend. Unfortunately, it was beaten in ticket sales by Sinister 2 and Hitman: Agent 47. This prompted an intense rant from Landis on social media about original films vs. sequels, reboots and adaptations.
According to Yahoo, which pulled Landis' tweets, he began by acknowledging the box office placement, which was even behind The Man From U.N.C.L.E. and Mission: Impossible - Rogue Nation, both of which had already debuted in theaters in previous weeks.
In posing this question to Twitter he questions whether or not original concepts in movies are over and done; whether all that anyone cares about anymore are sequels, reboots and the like. So, let's take a look at some of the original films -- aside from American Ultra -- that have hit theaters in the past year.
Interstellar was a major success and even earned some awards buzz, though Landis sees its director Christopher Nolan as an exception to this question. Other films with original concepts were Neighbors with Seth Rogen and Zac Efron, Ride Along with Ice Cube and Kevin Hart, Lucy with Scarlett Johansson, and The Grand Budapest Hotel with Ralphe Fiennes. BuzzFeed reported that these were among the most successful original concepts of 2014, also disregarding films that were based on true stories and historical figures. With the exception of Grand Budapest and Instersteller, all of those mentioned are getting sequels because of heir success. This year also saw Pixar's Inside Out, Spy with Melissa McCarthy, and Neill Blomkamp's Chappie hit theaters.
So, while it's easy for studios to sign off on something as seemingly easy and safe as non-original content, there is still hope for originality. However, there's no denying how scarce it's become in the current Hollywood climate.
Your Daily Blend of Entertainment News
Thank you for signing up to CinemaBlend. You will receive a verification email shortly.
There was a problem. Please refresh the page and try again.