Why Batman Has A Mech Suit In Batman V Superman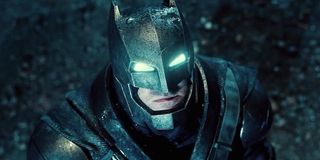 As we patiently await the release of Zack Snyder's Batman v Superman: Dawn of Justice we were left putting minimal pieces together. And one question we can't help but ponder, is how in the hell will Batman even come close to standing up to Superman? We are talking the Man of Steel here. So when the first trailer that arrived showed us a glimpse of the Dark Knight's new, extremely bulky power suit, another piece of the equation was revealed. Now we just received info that the mech suit is indeed helping Batman in the fight against Superman, but maybe not in the way we assumed.
During the Warner Bros. panel today at San Diego Comic-Con, Zack Snyder dropped some interesting snippets about that powerful-looking special armor, specifically, that it really isn't all that powerful, that is in the enhancing sense. While we had hoped that suit may help to enhance Batman's strength and power, it turns out that its real purpose is for self-preservation. Snyder explained that Bruce Wayne will be rocking this particular suit so he doesn't get his ass kicked while being "pummeled like a piñata" during his face off with the invincible Kal-El.
Previous trailers and images of Ben Affleck's Batman had suggested that this seemingly hulkbuster-inspired suit had a lot more to offer than just heavy armor. With a glowing aspect to the eyes along with Bruce Wayne's creative way of using technology, we had hoped that there was some sort of kryptonite fueling going on that could help Batman in the fight against this otherworldly god. But Snyder revealed nothing of the sort. And if there's absolutely no superhuman strength enhancement going on, well, we're getting even more nervous for the Caped Crusader. A suit of man-made armor will not be able to protect him very long. And after seeing how angry Bruce is in this new trailer, he's going to need some major protection.
The new trailer also gave us our first glimpse at kryptonite, in the hands of Lex Luthor. If we are doing a color comparison, it sticks to the true green color that Superman fans recognize, while the Caped Crusader's glowing eyes are a bit more blue, unlikely a power devised from kryptonite source. In the hands of a man like Lex Luthor though, bad news for everyone. So maybe the intention of this mech suit is to allow Superman to pummel Batman "like a pinata" just they come to some sort of compromise? There is a bigger enemy at hand. We'll see when Batman v Superman: Dawn of Justice hits theaters March 25, 2016.
Your Daily Blend of Entertainment News