Batman's Bulky Power Suit Looks Almost Iron Man-Ish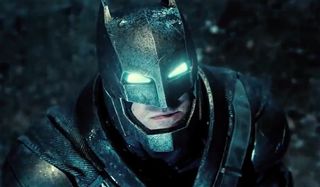 Henry Cavill, Ben Affleck and Gal Gadot will be sashaying onto the Hall H stage this Saturday for the San Diego Comic-Con festivities, but Christmas has come even earlier than that. While perusing the exhibition floor for Preview Night on Wednesday, we found a bevy of toys that you'll be able to buy within the next year to coincide with the highly anticipated Batman v Superman: Dawn of Justice. Check out the awesome swag, including Ben Affleck's new Batman power suit, below.
The non-super-powered Batman has a massive undertaking on his hands. He has to grapple with the virtually indestructible Superman, which means he's going to need some pretty durable gadgets to do so. We've caught glimpses of Batfleck's new kryptonite-fueled, strength-enhanced armor in the Batman v Superman trailers and images, but here it's fully on display in detailed toy form. What's probably the more movie-accurate version is above, but the vision of the suit below reminds us a different big screen hero that's become popular in the last decade or so.
Though the suit is based on an armor design from Frank Miller's The Dark Knight Returns, this action figure makes it look like Ben Affleck's Batman is taking some nods from Tony Stark and making his own version of the Hulkbuster suit. Sure, Superman isn't as out of control as the giant green rage monster, but society certainly thinks he needs to be controlled. And that means a super-suit is needed.
Of course, the armor isn't the only costume that the hero will be wearing in the 2016 blockbuster - and there are naturally toys of that suit as well:
The coolest gadget that everyone -- grown adults included -- will be buying when it eventually hits the shelves is the new version of the Batman mask. Not only does it allow you look like the Caped Crusader, but it also allows you to sound like him. Pretty soon it will be the kids rolling their eyes after the umteenth time they've heard mom and dad say, "I'm Batman!"
Batman v Superman: Dawn of Justice will not only pit the Man of Steel against the Dark Knight, it will also showcase the other member of DC's Holy Trinity, Wonder Woman. Gadot as Diana Prince was a major presence in DC's line of Batman v Superman toys, including small- and large-sized Wonder Woman action figures.
There was even a Wonder Woman Barbie doll (shown below), an official image for which debuted online before Comic-Con kicked things off. As you can see, the character will indeed be toting her signature shield and lasso.
We'll see more of Batman v Superman: Dawn of Justice come Saturday, July 11th, when Warner Bros. will be holding their annual Hall H presentation. The film's stars, including Jesse Eisenberg (Lex Luthor), will be coming out to showcase new sneak peeks for the fans, so stay tuned!
Your Daily Blend of Entertainment News