Why Black Panther Will Be Introduced In Civil War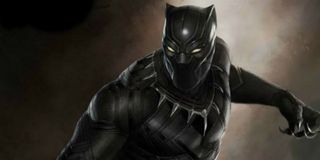 Captain America: Civil War is already going to be an epic slugfest between Iron Man and the star-spangled Avenger, but throw Black Panther into the mix and it becomes larger than life. Chadwick Boseman was announced in the coveted superhero role, but little is known about when and how we'll first encounter him in the film. Thankfully, Marvel Studios President Kevin Feige is here to shed some light on the matter.
We know that Civil War will feature an international incident involving the new Avengers team that leads to a fight among friends. According to the man behind the Marvel curtain, it was worth introducing a new character with fresh eyes on the matter. In an interview with SuperHeroHype, he said,
It's unclear what Black Panther's motivations actually are in this film, but his role proves to be so important that Marvel decided to have him show up long before his solo debut. We saw some teases in Avengers: Age of Ultron with certain implications. For one, the fact that Ulysses Klaw (Andy Serkis) was able to extract a large amount of vibranium from his nation of Wakanda is no coincidence. Feige said in a previous interview that when we first meet T'Challa, he and his father are grappeling with the fact that this occurred on their watch and that, perhaps, they need to try to join the rest of the world but protect their people at the same time. Elsewhere, the official plot synopsis for Civil War tells of the world's leaders banding together to enforce a superhero registration act of sorts on all superhumans. Since T'Challa is the prince of his nation, it seems likely that he could be one of these leaders. One of the rumors to emerge from the woodworks of the blogosphere suggest that T'Challa's motives involve The Winter Soldier and who he may or may not have killed during his days as a brainwashed assassin. Though, those details are still to be confirmed.
Among those fighting in the Civil War are Black Widow (Scarlett Johansson), Scarlet Witch (Elizabeth Olsen), Falcon (Anthony Mackie), War Machine (Don Cheadle), Ant-Man (Paul Rudd), Vision (Paul Bettany) and Hawkeye (Jeremy Renner). This new information about how Black Panther will be introduced into the story reinforces the idea that he will have his own motives separate from the Avengers, but that doesn't necessarily mean he won't take sides.
Captain America: Civil War will hit theaters on May 6, 2016, and Black Panther will make a reprisal for a solo movie coming on July 6, 2018. Selma helmer Ava DuVernay recently confirmed that she will not be directing the standalone installment of the MCU, implying creative differences with Marvel. Still, any Black Panther movie is a good Black Panther movie.
Your Daily Blend of Entertainment News