Why The DC Comics Movies Need To Be Dark And Brooding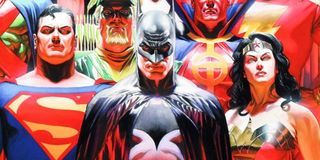 A while back, a rumor was going around saying that Warner Bros. has a maindate for all of their DC superheroes: they would all be dark and brooding like The Dark Knight. Even though it was unconfirmed at the time, people accepted it as truth and began slinging criticisms at the first installment of the new cinematic universe, Man of Steel. However, Greg Silverman, chief of film at the WB, sat with The Hollywood Reporter for an interview to confirm the differences between the DC and Marvel movies, and also to reassure the public as to why this needs to happen.
When the trade first asked him about the differences between the world of the Justice League and the world of the Avengers, Silverman said the studio's strategy is to pair each of their films with expert filmmakers to make sure that they all work together. When pressed a little further, the reporter specifically citing backlash on Man of Steel's dark tone, Silverman spoke more broadly about the darker dimensions of these characters.
As you can see, he didn't fully answer the question, and his reasoning seems a bit unclear. After all, Marvel is also trying to do the same with their movies: Captain America: The Winter Soldier is that studio's interpretation of a political thriller, while Guardians of the Galaxy is a space opera. Both of those films still maintain a lightheartedness and comedic flourishes, while Man of Steel was criticized for the story's unwillingness to crack a smile. So, while Silverman's response doesn't clearly break down why the DC films have to be so gritty, his first statement here seems to imply that the cinematic renderings of Superman, Batman, Wonder Woman and the like are going to be more serious. Again, he's just reiterating what we already know, as opposed to shedding light on the situation. However, he does say,
So there's that. In addition to Batman v Superman: Dawn of Justice premiering on March 26 of next year, David Ayer is busy filming his supervillain team-up Suicide Squad, both of which will introduce a bevy of new characters to join Superman and Lois Lane in this world. Of course, all things are leading up to Justice League, Part 1 and Part 2, with a whole lot more standalaone but cohesive films sprinkled in along the way. Silverman promises that we'll get a better sense of where this world is taking us after audiences see the next couple of films, which are debuting in 2016.
Your Daily Blend of Entertainment News