Why The Evil Dead Mash-Up Movie Is Probably Dead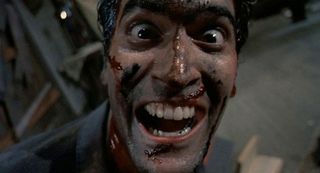 Ever since the remake back in 2013, there has been chatter that the worlds of Evil Dead, new and old, could collide on the big screen. The idea of Bruce Campbell's Ash, from the original, meeting up with Jane Levy's Mia, from the remake, was an intriguing one, but if you were waiting for that to happen, you may want to focus on other things, as it doesn't look like that is going to materialize, at least not anytime soon.
Talking to Entertainment Weekly about the soon-to-be-here Starz series Ash vs Evil Dead, franchise mastermind Sam Raimi explained why such an on screen collision is not likely to go down. He said:
Juggling one project is difficult enough, but developing two, as well as figuring out how they're going to eventually connect down the road, appears to be a daunting task to undertake, and it's easy to understand why Raimi and company would want to sit this one out and focus on other things.
The idea of the two Evil Deads coming together first reared it's demonic head in 2013 when Fede Alvarez, who directed the new incarnation, broached the subject. He mentioned that there had been talk of the remake getting a sequel (an idea that is now dead), as well as Sam Raimi making Army of Darkness 2 (which would be the fourth in the original Evil Dead family). The idea was that Ash and Mia would then meet further down the road in a movie after both of those.
Raimi himself touched on the topic one more time at San Diego Comic-Con this past summer, but now he has backed off of those plans. While his comments don't automatically preclude the possibility of an Evil Dead mash up (can we call it Evil Dead: Generations, like Star Trek?), and though he admits he'd still love for it to happen, don't hold your breath, as this isn't anything that will happen anytime in the near, or even near-ish future.
But on the positive side, fans of Evil Dead have a lot to be excited about at the moment. The first of ten half-hour episodes of Ash vs Evil Dead debuts on Starz this Saturday, which also happens to be Halloween. It's going to be a groovy weekend.
Your Daily Blend of Entertainment News
Thank you for signing up to CinemaBlend. You will receive a verification email shortly.
There was a problem. Please refresh the page and try again.