Why Hugh Jackman Isn't Quite Ready To Start Wolverine 3 Yet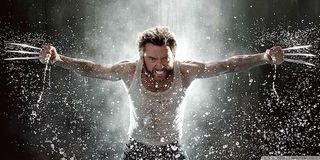 There's a lot riding on Hugh Jackman to make 2017's Wolverine 3 great. After all, after playing Wolverine for over 15 years, this will be his final time putting on the adamantium claws, so understandably he wants to go out on a high note. The movie is only a year and a half away from release, but for Jackman, he isn't ready to get started on Logan's third solo adventure until one thing has been perfected: the script.
Right now Jackman and director James Mangold are "at about page 60" writing Wolverine 3, but as the Pan star told EW, it's important that the script be ironed out before moving on to any kind of production. Jackman said:
If Wolverine 3 is about the same length as most blockbusters, then presumably Jackman and Mangold are about halfway done, or maybe even a little over that. Principal photography is currently slated to begin early next year, but with Jackman and the creative team still at work making sure the story is the best it can be, it doesn't sound like that start date is set in ink. If it takes longer than expected to perfect that script, 20th Century Fox may have no choice but to delay Wolverine 3 to sometime in summer 2017 or even further down the schedule.
Outside of unverified claims it will be based on the Old Man Logan storyline, no plot details for Wolverine 3 have been revealed, but the movie will see Logan reuniting with at least one familiar face. Patrick Stewart will reprise his role as Professor Charles Xavier, the man who gave Logan direction in his life following his memory loss in X-Men Origins: Wolverine. Logan returned the favor helping the younger Xavier in X-Men: Days of Future Past, but Wolverine 3 will see the father-son dynamic between the two characters explored. Recently Jackman took to social media to ask fans what they would like to see in the movie, and popular choices included more of Wolverine's berserker rage and Sabertooth returning. Whether these elements will be incorporated into the story or not remains to be seen.
You can hear Jackman's full comments below, including a fun tale of what he had been doing the day he first auditioned for Wolverine.
Assuming everything goes on track as intended, moviegoers can look forward to Jackman unsheathing the claws one last time when Wolverine 3 is released on March 3, 2017.
Connoisseur of Marvel, DC, Star Wars, John Wick, MonsterVerse and Doctor Who lore. He's aware he looks like Harry Potter and Clark Kent.
Your Daily Blend of Entertainment News
Thank you for signing up to CinemaBlend. You will receive a verification email shortly.
There was a problem. Please refresh the page and try again.