Why Jennifer Lawrence Wants No Part Of A Hunger Games Prequel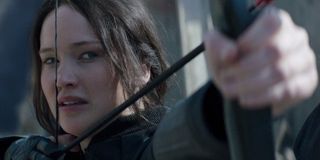 Even though they've already stretched the three Hunger Games novels into four films, because of the financial success of the franchise, Lionsgate already has teased that a prequel could be in the works. Of course, one of the main reasons for the success of the series has been the presence of Jennifer Lawrence, whose meteoric rise to becoming the most popular actress in cinema coincided with the start of The Hunger Games series. But when it comes to playing Katniss Everdeen, Jennifer Lawrence has now admitted that she's done, insisting that she wants nothing to do with the proposed prequels for a specific reason.
Jennifer Lawrence made this admission to Variety while at the premiere of her latest film, Joy. The Oscar-winning star of Silver Linings Playbook thinks there should be a lengthier gap between Hunger Games: Mockingjay – Part 2 and any possible prequel, stating that it's way too soon to even consider such an effort.
The Hunger Games: Mockingjay – Part 2 was believed to be the end of the hugely profitable franchise. In fact, it was originally assumed that 2014's Hunger Games: Mockingjay would be the final film, but Lionsgate wisely decided to split the final book into two movies so that they get their hands on even more money.
However, because of all of the dough that the series has been generating, Michael Burns, who works over at Lionsgate as vice chairman, admitted last week that they'd already held discussion over at the studio about how they can keep this cash cow alive even longer. Burns admitted that new plot lines, spin offs, and all other kinds of different narratives have been thought about, as he told investors at last week's UBS Global Media and Communications Conference that he wants The Hunger Games to be like Harry Potter and "live on and on."
But would audiences actually be interested? That's because, even though it's on course to make a hefty amount, having already grossed $564.6 million worldwide, that will still mean that it's the least successful installment of the franchise at the box office.
Also, without Jennifer Lawrence leading the line, it's hard to imagine that the Hunger Games films would be anywhere near as appealing to audiences, too. Or maybe not, because as the Harry Potter spinoff Fantastic Beasts And Where To Find Them is set to prove with Eddie Redmayne, they might yet find the perfect casting to rejuvenate the franchise.
Either way, we can expect a further Hunger Games film at some point down the line. While those of you who want to see even more Jennifer Lawrence can do just that on Christmas Day when Joy is released.
Your Daily Blend of Entertainment News