Why Kung Fu Panda 3 Wants Chinese Audiences To Pay To See It Twice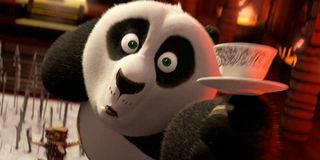 Kung Fu Panda 3 is a pretty big film for Dreamworks Animation. The studio has released a number of flops over the last few years, and because of this they're relying on the third instalment of the hugely popular franchise to thrive to keep them afloat. In order to get as much money as possible from Chinese audiences, Dreamworks came up with a nifty ploy. They decided to release two different versions of the film, which they believe will entice viewers back to cinemas not just twice, but three times, maybe more.
Dreamworks Animation's master plan is to release one version of Kung Fu Panda 3 where the animation matches the English language, and a Chinese version where the characters' mouths and body match the nuances of that language. Jeffrey Katzenburg, the CEO of Dreamworks Animation, made this revelation ahead of Kung Fu Panda 3's impending release. But he doesn't just expect people to go and see the film once or twice, he believes that they'll flock to see it on numerous occasions so that they can really find out which version they prefer.
For the previous Kung Fu Panda films the approach was rather simple. Chinese actors were brought in to dub over the likes of Jack Black, Angelina Jolie, Dustin Hoffman, Seth Rogen, and the rest of the voice cast. While Jeffrey Katzenburg's above remarks, which he made to an industry crowd last month in Sanya, were met with laughter, The Hollywood Reporter's sources insist that the studio head wasn't exactly joking with his ambition.
Dreamworks Animation hopes that viewers will be so curious about the different versions that they flock to see them both. In order to try and convince audiences to do just that, Oriental Dreamworks, the Chinese contingent of the studio, has been promoting Kung Fu Panda 3 relentlessly, highlighting that two different incarnations of the film will be available.
It's no surprise that Jeffrey Katzenberg and Dreamworks are going to such lengths to tap in the Chinese market. In 2008, Kung Fu Panda surprisingly grossed $26 million in China, which was the first time that a U.S. film had performed so well in the region. This success was replicated in 2011, when Kung Fu Panda 2 made $92.2 million, to become China's highest-grossing animated film ever, a record it still holds to this day.
Dreamworks hopes that the dual-language release will give Kung Fu Panda 3 a prolonged period of success in China, which will then lead to it eclipsing its predecessor's huge haul in the region. We'll find out in the next few weeks if it's been successful, as Kung Fu Panda 3 is due in Chinese cinemas on January 29.
Your Daily Blend of Entertainment News