Kung Fu Panda 3: What We Know So Far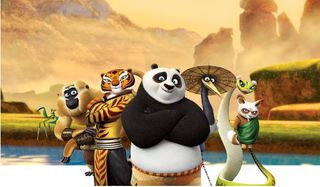 After waiting what seems like an eternity, Kung Fu Panda 3 is finally heading our way next month! Some of you have probably been waiting for this moment for a while, while others may not have known that such a wondrous occurrence was heading your way. No matter which camp you're in, we here at Cinema Blend are here to help – as we've got a guide chock full of the information that tells you everything you need to know about Po's latest journey.
While it's only a little over a month from its January 26th release date, Kung Fu Panda 3 almost looked like it would never happen. First scheduled to hit in a March 2016 release window, the film moved to December of 2015... only to move back to its March date, so as to avoid any competition with Star Wars: The Force Awakens. From that point, it moved to its final date of January 26th, so as to avoid any sort of trouncing Batman v. Superman: Dawn Of Justice would have delivered.
As if shifting release dates weren't bad enough, the film lost two cast members – Mads Mikkelsen and Rebel Wilson – due to the production schedule for the film preventing them from being present. Both roles were recast, with Wilson's being the more urgent replacement, as she dropped out of the film as recently as September. Yet through all of this, Kung Fu Panda 3 has never derailed. Check out a preview of the film with the trailer below:
Now, without further ado, let's get to breaking down the upcoming animated blockbuster!
The Directors
Directing Kung Fu Panda 3 are Dreamworks Animation stalwarts Alessandro Carloni & Jennifer Yuh. Carloni previously worked as a director on Me And My Shadow, with supervising positions throughout the Kung Fu Panda films, as well as the holiday special. Outside of Po's world, Carloni has also worked on the How To Train Your Dragon films, Over The Hedge, and The Croods. Yuh co-directed Kung Fu Panda 2& was the head of story for Kung Fu Panda; as well as a story artist on Spirit: Stallion of the Cimarron and Madagascar.Both Carloni and Yuh are experienced in the ways of Dreamworks Animation, as well as the Kung Fu Panda series – making them clear picks for the honors of ushering in a third installment.
The Story
After two films worth of personal growth and kung-fu mastery, Kung Fu Panda 3 finds Po's story picking up where the last film left off. With Po's father, Li Shan, sensing he's still alive after the end of the second film's events, a reunion is in order. Not only is Li Shan trying to bring his son home to a village of pandas who are in need of training in the ways of kung fu, he's also trying to set him up with his arranged wife, Mei Mei. As if things couldn't possibly get more complicated, Kai – an ancient spirit of evil intent – is robbing kung fu masters of their powers. Po's life is about to get a little more difficult, but with a bowl of noodles and a heart as warm as broth, he just might pull it off.
Po
The protagonist of the Kung Fu Panda series, Po was orphaned by the evil Lord Shen, during his campaign to exterminate the panda race. Shen was motivated to do so by a prophecy that called for a special panda that would one day defeat him, which eventually came true thanks to Po being rescued and raised by Mr. Ping – a noodle merchant who found him in a radish crate as a baby. Throughout both previous installments, Po has grown as a kung fu master under the tutelage of Master Shifu and his Furious Five, which has lead to him being instrumental in defeating the evil Lord Shen, as well as Shifu's previous student, Tai Lung. Po is voiced by Jack Black, who originated the character in the 2008 origin story.
Tigress
The closest thing to a love interest that Po has ever had in the Kung Fu Panda series, is that of Tigress. While the two were originally adversaries, considering she wanted the vaunted position of Dragon Warrior that was given to Po by Grand Master Oogway, their quarrel was dispelled after the defeat of Tai Lung. While the two haven't exactly shared that many "tender" moments, her concern for Po is warm, and could be tested once he leaves the Furious Five to become a kung fu mentor to the survivors of his village. Reprising the role of Tigress is Angelina Jolie, who most recently was seen starring in, writing, and directing By The Sea; though she's no stranger to voice acting as she previously voiced a character in Dreamworks' Shark Tale.
Shifu
Trained by Grand Master Oogway, and the master of many a kung fu master in his corner of the world, Master Shifu is as fierce as he is wise. His greatest claim to fame is the mentorship of the "Furious Five," the most elite group of kung fu fighters ever known. Unfortunately, his great wisdom also created his own greatest foe, as a former pupil of his turned to a life of evil when denied the position of Dragon Warrior. Eventually, that honor went to his most challenging pupil – Po the panda. When we catch up with Master Shifu in Kung Fu Panda 3, we find that he's encouraging Po to take his training to the next step, by becoming a teacher himself. Dustin Hoffman is, and always will be, the voice of Master Shifu in the Kung Fu Panda films; with a strong resume of voice acting roles in The Tale Of Despereaux, Racing Stripes, and even an episode of The Simpsons to compliment this esteemed role.
Monkey
A carefree, but wise, warrior in the ranks of the Furious Five, Monkey is probably the only member of the Furious Five that's voiced by someone who can actually do the kung fu moves you see on the screen. Voiced by legendary martial artist, and experienced actor, Jackie Chan, Monkey is a fighter who uses a staff, as well as his body. While this is Chan's only voice work to date, he has been the focal point of the animated series Jackie Chan Adventures, in which he'd appear in short sequences as himself. Of course, his most prolific work has to be the Rush Hour franchise, as his profile in the film industry skyrocketed with the first film in 1998.
Mantis
Master Mantis is, literally, a much stronger character than you'd think. With a strength that suggests a creature of a greater size, Mantis is also a whiz in the art of acupuncture… provided he knows the ins and outs of the anatomy he's working with. Also unfamiliar with the presence of his father, Mantis eventually grew to be an ally to Po and revealed himself to be quite a bit of a softy, waiting for a woman who'll bite his head off, like his dear old Dad before him. A Dreamworks veteran in his own right, Seth Rogen returns to the role of Mantis in the same year that he finds himself voicing a character in the much more mature Sausage Party, which are the latest credits to a voice-over resume that includes roles in Shrek The Third, Monsters Vs. Aliens, and Horton Hears A Who.
Viper
Despite her lack of an effective set of fangs, Master Viper has abilities that makes up for her inability to use her venomous powers. Using speed and agility to confuse her opponents, Viper's childhood hobby of ribbon dancing helped her become a weapon of precision targeting and enemy distraction. The most empathetic member of the group, Viper does not have much of a stomach for the injustices her enemies visit upon their victims, which also helped her become friends with the clumsy Po. While Lucy Liu's best known for her roles in films like Kill Bill and shows like Elementary, Liu has had two steady voice-over roles since 2008's Kung Fu Panda: Master Viper, and the fairy known as Silvermist in Disney's Tinker Bell series.
Crane
While Po had to work to get the rest of the Furious Five to even interact with him in Kung Fu Panda, Master Crane was the first one to actually talk to Po in his time of isolation. Over time, once Po had endeared himself to the Furious Five, Crane and Po became a sort of team when it came to combat. In addition to being able to carry every member of his team on his back, Crane mostly uses his flying abilities to save Po when he's fallen from extreme heights. Last, but not least, Master Crane can act as the "eye in the sky" for the team, surveilling the battlefield like no one else can. Voiced by David Cross, Crane is one of two Dreamworks roles Cross has banked in his career, the other one being Minion in Megamind.
Li Shan
During Lord Shen's gigantic panda cleanse of his village, Li Shan was separated from his wife and child. For the years between Po's childhood and the events of Kung Fu Panda 3, his father would be the leader of the pandas that survived, as they had taken refuge in a secluded corner of the kingdom. However, with the arrival of Kai, the film's villain, Li Shan goes on a journey to reconnect with his newly empowered son, whose presence he felt after his triumphant victory in Kung Fu Panda 2. Strangely enough, father and son are right under each other's noses in their first appearance together in one of the trailers for Kung Fu Panda 3, which has us wondering just how Li Shan will ultimately recognize his son. Li Shan is voiced by Bryan Cranston, but was originated by veteran voice actor Fred Tatasciore when he first appeared at the end of Kung Fu Panda 2.
Mei Mei
One of the pandas that survived the invasion and destruction inflicted upon the panda village was none other than Mei Mei – the woman that Po has been arranged to marry. Besides her fixation on her husband to be, Mei Mei has one true passion in her life: she loves ribbon dancing. Though that may make her sound helpless, she does also seem to have some skills with nunchucks, so perhaps Mei Mei has more fight to her than one could imagine. Mei Mei is voiced by Kate Hudson, in her career's first voice acting role. Previously, Rebel Wilson was cast in this role, but due to the "extended production schedule" on Kung Fu Panda 3, she had to drop out.
Kai
Every Kung Fu Panda movie has had a villain that, one way or another, was connected to the past of one of our protagonists. Which makes Kai, the new baddie on deck for Kung Fu Panda 3, the first supernatural force that the team is fighting against. A bull who dual wields two jade blades, bound together by a sturdy metal chain, Kai is also known as the "the master of pain," "the beast of vengeance," and "the maker of widows." He also, in some capacity, worked with Grand Master Oogway – Master Shifu's teacher, who ascended to the heavens in Kung Fu Panda. Cast as Kai is Academy Award winner J.K. Simmons, who is taking over the role from its previous occupant, Hannibal's Mads Mikkelsen
Senior Movies Contributor
CinemaBlend's James Bond (expert). Also versed in Large Scale Aggressors, time travel, and Guillermo del Toro. He fights for The User.
Your Daily Blend of Entertainment News
Thank you for signing up to CinemaBlend. You will receive a verification email shortly.
There was a problem. Please refresh the page and try again.