Why Mo'Nique Isn't A Bigger Star, According To Mo'Nique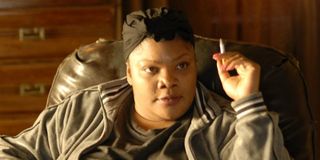 Mo'Nique has been known for her extensive comedic career, from her stand-up gigs to her movies like Phat Girlz and Soul Plane. But everything seemed like it would change for the better when she won the Best Supporting Actress Oscar for Precious — more money, more opportunities, more respect. Unfortunately, this hasn't happened, and the renowned comedienne and actress has spoken out about her career trajectory, and what has happened since she won Hollywood's highest honor.
Mo'Nique recently spoke at length with The Hollywood Reporter and revealed that the reason behind her lack of major success in the dramatic field is because she's been "blackballed" by Hollywood. At least, that's what filmmaker Lee Daniels told her over the phone. The Precious director called her up about six or seven months ago, by her own estimations, and told her this. When she asked why, he responded, "Because you didn't play the game."
The Academy Award winning actress still doesn't know exactly what he meant by this, and Daniels has been pretty vague in his official response to the matter. In a statement made to THR he said, in part:
The director also added that he does consider her "a creative force to be reckoned with," and Mo'nique added that he even come to her in recent years while in the early stages of casting projects. According to the actress, he not only first offered her Oprah Winfrey's part in The Butler, but he also tried to get her on the television show Empire (on which he's an executive producer), and offered her the role of Richard Pryor's grandma in Daniel's upcoming Pryor biopic. However, they all "just went away," which she chalks up to "part of this business." She seems to be implying here that it all relates back to her being blackballed, though Daniels' official response was that the powers that be came to the consensus of going another direction.
In Precious, Mo'Nique portrayed Mary, the abusive mother of Gabourey Sidibe's Claireece "Precious" Jones. She scooped up award after award from BAFTA, SAG, Golden Globes, Oscars and more. In case you didn't see the film, here's just a taste of her performance. Spoiler alert: It's pretty damn moving.
After her numerous wins, Mo'Nique assumed her career would jettison off into the Hollywood sunset. Instead, she felt that she had done something wrong by winning the award. Since Precious, she has only appeared in 2009's Steppin: The Movie. However, she's looking forward to debuting an indie film called Blackbird in which she stars and produces. As she told THR, she's happy to be creating something outside of the Hollywood system. "Whenever you do see me on TV again, or in the movies," she said, "you'll know somebody played me fairly."
Your Daily Blend of Entertainment News