Why Movie Theaters Really Need Teenagers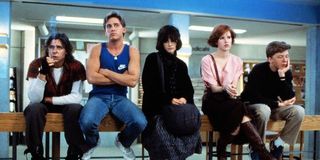 Think back to your adolescence. When you and your friends bickered over what to do on a Friday night, one option probably always seemed universally appealing: going to the movies. As it turns out, you aren't alone in that feeling. The last year experienced incredibly financially successful for the film industry, and much of that has to do with a serious boom in the teenage audience.
The numbers are in, and they bode well for the future; 2015 experienced a major movie-going record as box office revenue yielded a staggering $38.3 billion. THR reports that during a recent CinemaCon panel, National Association of Theater Owners President-CEO John Fithian attributed the boom in ticket sales primarily to teenagers. Out of every major demographic, teenagers experienced the largest boom in overall ticket sales between 2014 and 2015.
Although teenagers don't consume other forms of conventional media (i.e. television) to the same degree as other portions of the population, they still make up an incredible percentage of the typical movie going populace. In fact, despite making up only about 8% of the total population, teenagers represent about 16% of all moviegoers. Additionally, compared to most other segments of the population, teenagers are inclined to purchase 3D tickets (which generally cost more) as well as tickets to major blockbusters such as Jurassic World, and Star Wars: The Force Awakens.
This ultimately represents one of the primary reasons that major blockbuster franchises tend to stick with the ever-reliable PG-13 rating. Although the recent success of Deadpool has proven that hard R blockbusters can turn a profit when done correctly, PG-13 still casts the widest possible net by making it easier for teenagers to join the audience.
Fithian would go on to additionally attribute credit for the boom in ticket sales to the growing accessibility of high-end movie theaters in a variety of neighborhoods across the country. This means that teenagers from a variety of cultural and socio-economic backgrounds have unprecedented access to venues screening Hollywood blockbusters.
With this news in mind, 2016 could prove to be even more profitable than last year. Between the myriad PG-13 superhero movies hitting theaters, Fantastic Beasts and Where To Find Them, and Rogue One: A Star Wars Story, it seems likely that teenagers won't stop going to the movies anytime soon.
We will keep you up to date with all of the latest news related to your favorite movies and their box office performances. If you're a teenager, make sure you keep going to the movies, and if you have teenagers, remember that there's no better way to get them out of the house than to send them to your local movie theater with their friends. Stay tuned for more details!
Originally from Connecticut, Conner grew up in San Diego and graduated from Chapman University in 2014. He now lives in Los Angeles working in and around the entertainment industry and can mostly be found binging horror movies and chugging coffee.
Your Daily Blend of Entertainment News
Thank you for signing up to CinemaBlend. You will receive a verification email shortly.
There was a problem. Please refresh the page and try again.