Could Star Wars Find A Role For Dave Bautista?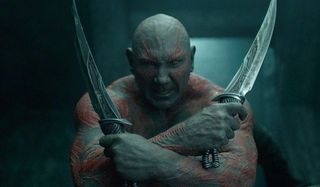 Though he first made a name for himself in the theatrical world of professional wrestling, Dave Bautista has made quite a splash recently in movies, turning up in the likes of Guardians of the Galaxy and the upcoming James Bond film Spectre. But even with all of his big screen success, there's one franchise he desperately wants to be a part of, Star Wars.
The beefy actor did a Twitter Q&A session with IMDb, and when he was asked about future career, and life, goals, he responded with this:
The wrestler-turned-actor is 46-years-old, which puts him smack in the middle of a generation that grew up on George Lucas' beloved space opera, most of whom have the life goal of being in a Star Wars movie (it's certainly one of mine). However, he, unlike most of us, is in a position where he could possibly make that happen, and he has hope that his persistence, or at least his pestering, may yield actual results. He followed up with:
Though his remarks are made in jest, it certainly wouldn't be the first time that a famous Star Wars fan has landed a small part in one of the films. In the footage Star Wars: The Force Awakens revealed at San Diego Comic-Con recently, we got a look at Simon Pegg in some kind of heavy, practical creature costume, fulfilling his own lifelong dream. There were also rumors that Bautista's Spectre costar Daniel Craig is one of the stormtroopers we see in December, though he unceremoniously shot down those reports.
Though Guardians of the Galaxy, where Bautista plays the literal-minded Drax the Destroyer, is regarded by many as owing a huge aesthetic and tonal debt to Star Wars, there's still a big difference between being in a Star Wars-like movie and an actual, honest-to-god Star Wars movie.
Bautista is a massive dude, way bigger than your average stormtrooper, so you have to wonder how that would work out if he does ultimately get his wish. But sometime in the future, if we see a bulky, white-clad tool of the Empire who doesn't look like he fits in his armor, who knows, maybe it'll be Dave Bautista checking an item off of his bucket list. We've got our fingers crossed for your, big guy.
Your Daily Blend of Entertainment News
Your Daily Blend of Entertainment News
Thank you for signing up to CinemaBlend. You will receive a verification email shortly.
There was a problem. Please refresh the page and try again.