Why Problem Child's First Public Screening Was A Complete Disaster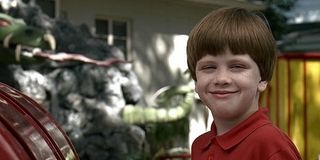 It may be hard for some of you to believe, but today marks the 25th anniversary of Problem Child (it was released July 27, 1990). The John Ritter-starring comedy went on to become a hit, but initially it appeared that it would be anything but. Let's just say that the first screening did not go over particularly well, as most of the test audience got up and left.
Talking to The Hollywood Reporter, director Dennis Dugan, a frequent Adam Sandler collaborator, recounted that fateful event, and it was not something that you ever want to see. He said:
That's something you never want to experience as a filmmaker. Seriously, can you imagine spending months and months of your life filming, editing, and generally crafting a movie only to have more than two-thirds of your audience walk out? That's a harrowing and disheartening for an experienced filmmaker, but Problem Child was also Dugan's first feature directorial effort. It's almost enough to make you rethink your career choices.
As if their displeasure wasn't noticeable enough, Dugan says his film scored a 30 in audience responses, and he noted that if you're as low as 60, you're in some serious trouble. All in all, he called the experience "a disaster," which sounds about right from his description.
But it wasn't as bad as it could have been, since Dugan did have Universal Pictures head Tom Pollack in his corner. Despite what happened at the screening, the studio exec never wavered in his support of both Dugan and the film. He even told the fledgling director that the audience was wrong, and that Problem Child would be a hit.
They did go back for two weeks worth of reshoots, which included adjusting the ending and adding a few key scenes, most notably the one at the birthday party. But, even with that, Pollack was ultimately proven right. Not only was Problem Child a success at the box office, it wound up being the most profitable film that Universal released that year. While not a massive hit by today's blockbuster standards, it opened in third place, raking in $10 million with its debut, and went on to pull in $72 million worldwide in 1990.
Dugan's next film, the Zucker Brother-produced Brain Donors, was a total flop, though it did eventually go on to rise to a cult status. But don't feel too bad for him, however, as he has found some solid success following his rough beginnings as a feature film director. Not only did he helm Happy Gilmore, a bona fide modern comedy classic, he's directed the likes of Big Daddy, You Don't Mess With the Zohan, and Grown Ups 2. And it all started with one small tale about the guy from Three's Company and an evil, redheaded child.
Your Daily Blend of Entertainment News
Thank you for signing up to CinemaBlend. You will receive a verification email shortly.
There was a problem. Please refresh the page and try again.