Why Psylocke's Sexy Outfit Doesn't Matter, According To Olivia Munn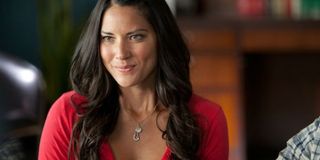 Earlier this week, X-Men: Apocalypse dropped a few exclusive photos of some of the new mutants to join the mix when the latest installation of the franchise hits theaters. Among them was Olivia Munn's Psylocke. We had seen teases of her character before, and even heard from Olivia Munn herself how detailed (and tight) her costume would be. But it wasn't until we caught that first glimpse that we realized just how awesome (and sexy) her costume was.
Psylocke's live-action costume stayed true to the comic books, and looks as if she has stepped right from the pages. But, as we see in the comic books, that costume is quite tight, and quite sexualized, considered a norm when it comes to female superheroes. Munn has even teased that she needed a team of women along with a bunch of lube to even slip into her costume. But for the actress, it's not the sexiness of the outfit that matters. There's so much more to it. She explained to Entertainment Weekly:
Essentially, the costume was important to make Olivia Munn recognizable as Psylocke. Along with the suit she's rocking the purple hair and appropriate weaponry. But for Munn, who is well aware of how sexualized she is made in this costume, it doesn't matter one bit. The costume does nothing, it's her strength and power that makes Psylocke, well Psylocke.
Until we see footage (which hopefully will be coming real soon considering it was shown at a recent panel presentation at San Diego Comic-Con) we can't be sure how distracting her costume will be or not. For now, we'd like to believe Munn, because Psylocke seriously looks hot, but also super badass and a force to be reckoned with. The actress has also teased her learned sword skills in the recent weeks as she prepped for her performance as the telepathic mutant.
For those less familiar with the X-Men comics, Psylocke a.k.a. Elizabeth Braddock is a powerful mutant with both telekinetic and telepathic abilities, but also excellent fighting skills, particularly with a sword/katana. She is also known to manipulate psionic energy to create her own weaponry as well, mostly of the sword and knife variety.
After the X-Men: Apocalypse panel at SDCC, it was learned that Apocalypse (Oscar Isaac) would be recruiting weak-willed mutants including Psylocke, young Storm (Alexandra Shipp) and Magneto (Michael Fassbender), to become his followers. These four will be among the many other mutants included in the upcoming film, which Oscar Isaac gave away to include a massive mutant battle. We'll see Psylocke and crew in action when X-Men: Apocalypse hits theaters May 27, 2016.
Your Daily Blend of Entertainment News
Thank you for signing up to CinemaBlend. You will receive a verification email shortly.
There was a problem. Please refresh the page and try again.