This Olivia Munn Picture Is Probably An X-Men Psylocke Costume Tease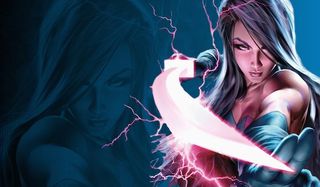 Earlier this week, director Bryan Singer announced that The Newsroom actress Olivia Munn would be playing Psylocke in X-Men: Apocalypse. Now only days later, the actress has posted this tease of the look her character might be rocking in the 2016 blockbuster. Check it out below!
The actress posted this image on Instagram of what could likely be her Psylocke costume in the film, with the caption "If the latex fits…" With principal photography scheduled to begin next month, all the actors are likely going through costume tests right now, so her outfit may go through some alterations before arriving at the final product we'll see on the big screen. Perhaps in the coming weeks we'll see costume teases for the other mutants, too.
Like many superheroes, Psylocke has gone through several costume changes over the years, but that glimpse above is fairly faithful to her traditional leotard look (which you can see below), although when she wears gloves, they're usually a darker shade of blue or purple.
While most of the X-Men films have been received positively by both comic book fans and general moviegoers, the costumes haven't been one of the facets that are frequently praised. The costumes from the original trilogy of films were often criticized for being too dark and leather-y, looking nothing like what the characters wore in the comics. Even the outfits in X-Men: First Class, which called back to the team's original comic book costumes from the 1960s, were somewhat subdued. The Wolverine came close to giving us a faithful comic book look by having Hugh Jackman wear Wolverine's traditional yellow and black costume briefly, but that scene was deleted from the film. If Munn's tease is any indication, perhaps 20th Century Fox has finally embraced giving the X-Men characters costumes more faithful to source material.
Psylocke is among the many mutants that have been announced as part of X-Men: Apocalypse's diverse lineup in the past few months, which includes Angel, Jubilee and Nightcrawler. What role she will play in the film is uncertain, but it will definitely involve displays of her telekinetic and telepathic mutant abilities, and hopefully her fighting skills as well. Similar to how there are two versions of Emma Frost in the film series, this will be the second live-action incarnation of Psylocke, the first appearing as a minor villain in X-Men: The Last Stand.
You can see Psylocke alongside the rest of the large cast when X-Men: Apocalypse hits theaters on May 27, 2016.
Your Daily Blend of Entertainment News
Connoisseur of Marvel, DC, Star Wars, John Wick, MonsterVerse and Doctor Who lore. He's aware he looks like Harry Potter and Clark Kent.
Your Daily Blend of Entertainment News
Thank you for signing up to CinemaBlend. You will receive a verification email shortly.
There was a problem. Please refresh the page and try again.