Why Roland Emmerich Still Felt It Was Necessary To Change The Facts For Stonewall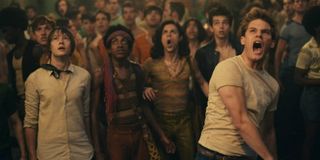 Roland Emmerich's Stonewall has incited an uproar from the LGBT community. The film, which describes itself as a retelling of the famous Stonewall riots that sparked the gay rights revolution in 1969, changed the story dramatically in multiple ways, including: (1) focusing on a fictionalized white, straight-acting male named Danny; (2) combining multiple historic figures into one, and; (3) downplaying some of the prominent trans figures of color who were at the forefront of this moment in history.
I spoke with Roland Emmerich during the press junket for the film, and he gave a more in-depth explanation behind these vital changes. He began,
As I wrote about in my review of the film, this is true to some extent. Many people who were actually on the ground during the riots are unknown or have passed — some because of complications with AIDS. Then there are the many unconfirmed and "urban legends," if you will, as to why the riots got started. One states that the gay community was so overcome by the death of icon Judy Garland that when the police came to raid the bar they fought back. To that extent, Emmerich said,
However, there are a few moments that are difficult to ignore, especially the portrayal of Marsha P. Johnson, a trans woman of color who was much more involved in the actual riots than the film lets on. During the interview, I brought up a specific scene cited by critics in which a black street youth takes out a brick with the intention of throwing it. Danny (Jeremy Irvine's character), however, takes the brick away and throws it to ignite the revolution himself.
Emmerich said,
In light of the growing controversy over the "whitewashing" of history, the director released a statement following the trailer's release. Published to his Facebook page, it read in part:
Roland Emmerich told me during our interview that he still stands by this statement, even in light of harsh reviews coming from the Toronto International Film Festival, where it premiered, and subsequent press screenings that have questioned some of Emmerich's changes. Unfortunately for Emmerich, this backlash doesn't appear to be going away, especially not after comments he gave to BuzzFeed about the issue. During that interview, he said he made the film "also for straight people," and through test screenings found that Danny "is a very easy in" for heterosexual audience members because the character is "very straight-acting."
However, when I asked Roland Emmerich why he chose to center the story around Danny, he said,
Stonewall will hit theaters this Friday.
Your Daily Blend of Entertainment News