Why The Scariest Movie Of The Year Won't Get A Sequel, According To The Director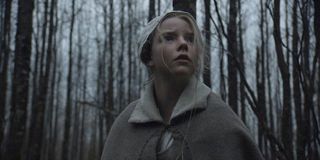 It took a while for first time director Robert Eggers' Sundance darling horror film The Witch to make it to the rest of us, but for fans of the genre, the slow-burn, tension filled movie was well worth the wait. An exercise in constantly amplifying pressure and terror, The Witch will likely go down as one of the scariest horror films in recent years, if not all time. It won't, however, follow one pattern for the genre, as there will be no sequel, because, as Eggers says, he doesn't want to know what's next.
Distributor A24 gave The Witch a wide release a few weeks ago, and was rewarded with their biggest opening ever, not to mention an endoresement from the Satanic Temple. It took more than a year to drop after its Sundance premiere, but that just gave Robert Eggers more time to stump for it in the press. When he talked to Entertainment Weekly, the subject of a sequel came up, and he said:
As a genre, horror is known for cranking out an endless parade of sequels, usually to diminishing returns. While I maintain that the Friday the 13th films are all watchable up until Jason Takes Manhattan, there are still a damn lot of them. Horror sequels are fairly ubiquitous, but it's actually refreshing to hear that there won't be a The Witch 2 coming down the pipe anytime soon.
That's great news. The Witch doesn't need a sequel. It's a meticulously crafted narrative, one that wraps up in startling fashion. According to what Robert Eggers has said previously, it was always intended as a one and done proposition, not as the launching point for a franchise.
There's no telling if anyone has actually brought up the prospect of The Witch 2 to Robert Eggers, but when I saw him do a Q & A at a screening of The Witch just prior to the wide release, it didn't sound like he had any interest in it, and he has a number of other projects on his plate at the moment anyway.
There have been reports that Robert Eggers will be at the helm of an upcoming remake of Nosferatu, the first cinematic telling of the Dracula tale from 1922, which was already remade in 1979 by Werner Herzog. He also has a medieval epic called The Knight in the works, and just in the past week or so, it has been reported that he will helm a six or eight episode limited series about "the Mad Monk" Rasputin. Having seen The Witch, all of this seems like a good fit for the production and costume designer turned writer/director.
We can't wait to see what Robert Eggers does next, just don't expect it to be The Witch 2.
Your Daily Blend of Entertainment News