The Witch Trailer: This Looks Like The Year's Scariest Movie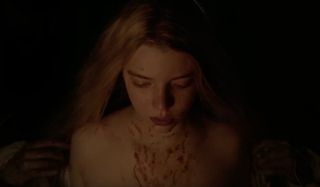 One of the standouts from this year's Sundance Film Festival was The Witch. It didn't just stand out for Robert Egger's incredible directing. It didn't just stand out for its cinematography. It also stood out for scaring the bejeezus out of critics. And now the first trailer is online! Watch it below.
The Witch takes us back to colonial period horror. In 1630 New England, a farmer is forced off his plantation, so uproots his family and moves to a remote plot of land close to a forest said to be controlled by witches. This was back in the days when the idea of witches was a legitimate concern, so why he would choose this piece of land is beyond me. Nonetheless, that's where he goes. Sure enough, frightening occurrences begin to happen almost instantly. Based on the Witch trailer, that includes the animals producing blood instead of milk, the crops failing, and the possession of a child. Being that, again, this is colonial times, the family turns their blame on the young daughter Thomasin and accuses her of witchcraft. She denies the allegation, but that doesn't stop the situation from getting stranger and more dangerous.
Anya Taylor-Joy plays the poor Thomasin, and this might be her big break — or, at least, semi-big break. She stars opposite Ralph Ineson, Kate Dickie (yes, that's Lysa Arryn from Game of Thrones) and Julian Richings.
After screening at the Sundance film festival, The Witch won Eggers the award for directing for a dramatic film, and the title was picked up by A24 Films. If the complete work is anything like the trailer, it'll surely give all of us nightmares. The footage is expertly cut together, and slowly builds this growing sense of dread with pulsating string chords, goat sounds and onomatopoeia, and the driving force of drums as we watch this family tormented in their darkest hour. You'll never look at those screaming goat memes the same way again, we'll tell you that much.
Robert Eggers made a name for himself as a production designer on various TV shows and short films, but The Witch is his feature-length directorial debut. He already has critics' attention. The Playlist's Rodrigo Perez wrote it "will dazzle and shake you right to the core," while The Guardian's Jordan Hoffman called it "something near greatness" and though some were somewhat turned off by its slower pace, most praised the work for the story's themes and the director's attention to detail.
The Witch will next hit the Toronto International Film Festival before its unannounced release some time next year. Based on this trailer alone, it should already be on your most-anticipated movie guides.
Your Daily Blend of Entertainment News
Thank you for signing up to CinemaBlend. You will receive a verification email shortly.
There was a problem. Please refresh the page and try again.