How Tony Stark May Enhance Spider-Man In Civil War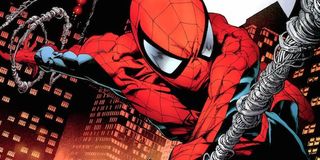 When Spider-Man allied with Iron Man in the 2006 Civil War comic book story, the billionaire industrialist gave the Web-Slinger the Iron Spider suit to wear in battle. With various reports of Tom Holland's Peter Parker wearing two Spidey costumes next year in Captain America: Civil War, many have wondered whether the film adaptation will follow a similar course and see Tony Stark giving Peter an armored costume. Now a new rumor suggests that while Tony won't be fitting Peter for a new outfit, he will give the teenage superhero something equally important: his web-shooters.
Latino-Review has heard from unnamed sources that Tony will be the one that gives Peter his web-shooters in Captain America: Civil War. This is because as a high school student, Peter only has access to things a normal teenager could get ahold of, whereas Tony has advanced technology at his disposal that is better suited for crafting these unique devices. Those of you who saw Avengers: Age of Ultron will remember Tony's comment about how he makes everyone on the team look cool, and evidently he'll be doing the same for New York's Wall-Crawler. Whether these are an incentive for Peter joining the pro-registration side or just a generous way for Tony to help out the young crimefighter is unknown at this point.
Because Peter created his webs organically in the Sam Raimi Spider-Man films, the web-shooters made their cinematic debut in 2012's The Amazing Spider-Man. Although the adhesive fluid came from OsCorp, Peter built the shooting mechanisms himself. They have always been one of the many ways Peter's above average intelligence has been demonstrated, so to hear that he won't be building them in this universe is odd. On the other hand, perhaps Peter has been using rudimentary web devices in the short time he's been active, and Tony has simply upgraded them to operate like the ones fans are used to. If that's the case, let's hope that Peter gets instructions from Tony on how to fix them. He doesn't want to have to keep crawling (pun intended) back to Stark Industries every time one of the shooters gets damaged in a fight.
Details on Spider-Man's exact role in Captain America: Civil War are still shrouded in mystery, although his presence has since been expanded to feel more like a supporting role rather than a cameo. One recent rumor suggested that there will be a showdown between Spidey and Cap, although that doesn't mean Peter won't follow in his comic book counterpart's footsteps and switch allegiances to the Star-Spangled Avenger. If that does happen, Tony may be pissed to see the hero he helped enhance going over to his former teammate's side.
Spider-Man will make his MCU debut when Captain America: Civil War hits theaters on May 6, 2016, and will headline his new solo film on July 28, 2017.
Your Daily Blend of Entertainment News
Connoisseur of Marvel, DC, Star Wars, John Wick, MonsterVerse and Doctor Who lore. He's aware he looks like Harry Potter and Clark Kent.