The First Captain America: Civil War Death Has Already Leaked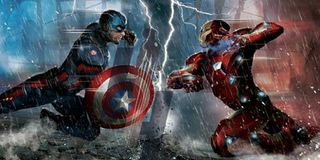 We should start facing one harsh reality: not everyone will live to see the end of the Civil War. The third Captain America movie, which is just as large in scale as The Avengers, is in the midst of production, and set photos have been leaking left and right. The latest to drop reveals the first Marvel character to meet their maker in Joe and Anthony Russo's Captain America: Civil War.
Obviously, this is a massive spoiler from the film, so proceed at your own discretion. OK, the first character to get offed is a her. To be more specific, it's Hayley Atwell's Agent Peggy Carter. After popping up briefly in Captain America: The Winter Soldier, depicted as an older woman living out her final days in a home, it looks like her time comes when the events of Civil War roll around. An extra from the set posted a photo online that revealed a program for her funeral. Marvel quickly asked the extra to take it down, but it already had made the rounds. You can see the photo over at Comic Book Movie. With Emily VanCamp's Revenge at an end, she has no major complications blocking her return as Agent 13, aka Peggy's daughter Sharon. Leaked photos from the set revealed an interaction between her and Chris Evans' Cap, though the circumstances were unknown until now.
This is the first of what we presume will be more emotional blows to come when Captain America: Civil War hits theaters on May 6, 2016. The film will pick up a little ways after Avengers: Age of Ultron, as Cap is leading a new team of Avengers made up of Black Widow (Scarlett Johansson), Scarlet Witch (Elizabeth Olsen), Vision (Paul Bettany), Falcon (Anthony Mackie) and War Machine (Don Cheadle). After an international incident occurs involving Earth's Mightiest Heroes, the governments of the world join forces to regulate all superhuman activity. This divides the heroes into two camps — Team Captain America and Team Iron Man — and an on-going battle ensues. Robert Downey Jr. reprises his role as Tony Stark for this installment, and he's also joined by: Frank Grillo as the primary antagonist Crossbones; Chadwick Boseman as Black Panther; Paul Rudd as Ant-Man; and an extended cast that includes Daniel Bruhl as Baron Zemo and Martin Freeman in an unknown role.
Practically every major Marvel character, except for Thor and Hulk, will be back for Civil War. A film like this suggests Peggy won't be the only one to die before the end-credits roll, so be prepared. The comic storyline saw two deaths that had major impacts on the characters, though it should be noted that the film version will only use this as inspiration and not necessary follow the plot exactly. At the very least, we can take solace in the fact that Peggy will live to fight another day as Agent Carter is prepping for season 2.
Your Daily Blend of Entertainment News
Thank you for signing up to CinemaBlend. You will receive a verification email shortly.
There was a problem. Please refresh the page and try again.