Star Wars Episode 8 Will Definitely Bring Back One Classic Cast Member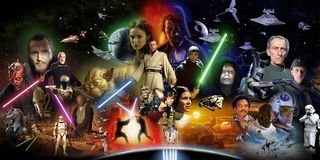 It should probably go without saying, but we're going to say it anyway: There are potential big SPOILERS beyond this point for both Star Wars: The Force Awakens and Star War: Episode VIII.
When J.J. Abrams' Star Wars: The Force Awakens hits theaters later this year, it brings back a number of beloved characters from the original trilogy, most notably Mark Hamill's Luke Skywalker, Carrie Fisher's Princess Leia, and Harrison Ford's Han Solo. While there have been rumors and speculation, and we don't know the precise roles they will play, we do now know that at least one of them will be back for director Rian Johnson's Star Wars: Episode VIII in 2017.
A while back, news began circulating about Star Wars returning to the picturesque Irish isle of Skellig Michael, a world heritage site and stunning, wind-swept location off the west coast of Ireland. This filming was ultimately revealed to be for Episode VIII, not reshoots on The Force Awakens, and now the Irish Examiner reports that Mark Hamill and his son Nathan were spotted getting ready to once again make the trek the location—a journey that almost cost the elder Hamill his life the last time around. The first day of filming was also reportedly delayed due to some of the worst weather conditions in recorded memory.
Presuming that all of this is in fact true, this development fits in with many of the rumors about the plot of The Force Awakens that have been swirling over the previous months. One of the story elements that we've heard repeatedly, from multiple sources, is that Luke Skywalker is missing and much of the plot revolves around locating him. The reasons (some have indicated kidnapping, while most suppose it is a self-imposed exile) and duration (some indicate he's been missing a few years, while others say he has been MIA since shortly after the Battle of Endor in Return of the Jedi) vary, but the main point is that he remains hidden for much, if not most of the movie.
Reports indicate that the searchers do in fact find him near the end, and that he may be at some sort of temple, possibly guarding an ancient evil from being released back into that far, far away galaxy. The prevailing logic is, this is where Skellig Michael comes into play, and if you've seen pictures of the locale, which was itself home to a Christian monastery established between the 6th and 8th centuries, is an ideal place to stand in for such a setting. There's something haunting and almost mystical about the relics on the island.
Again, if this is how things shake out in The Force Awakens, and things end on Skellig Michael, it stands to reason that this spot will once again show up in Episode VIII. As usual in regards to Star Wars, we don't know in what capacity, but as we get closer and closer to the release, we're getting all the more excited.
Star Wars: The Force Awakens hits theaters on December 18, 2015, while Star War: Episode VIII opens May 26, 2017.
Your Daily Blend of Entertainment News