Why Venom Absolutely Won't Be In The Amazing Spider-Man 2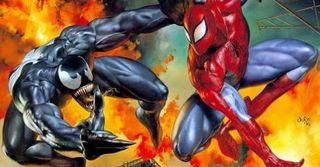 Are we absolutely sure Dane DeHaan isn't playing Eddie Brock Jr. in Marc Webb's The Amazing Spider-Man 2?
The director recently stirred the pot once again by tweeting a suggestive photograph from the set of his sequel, which currently is filming in New York City. Several sites reached for the conclusion that Webb, through Twitter, was confirming Venom as a possible villain for the upcoming sequel, and countless reasons were given as to why this had to be fact, from the look of the locker to Dane DeHaan's birthday.
Before we get into those speculations, let me just call "shenanigans" on the whole Venom reveal.
Webb knows that Spider-Man 3 offended fans. He understands that Sam Raimi botched Venom as a villain – primarily because Sony forced Raimi to include a villain he never had interest in exploring – and he realizes that too many antagonists can ruin a sequel. A quick head count of confirmed characters for Webb's Spider-Man 2 include Electro (Jamie Foxx), The Rhino (Paul Giamatti), and the possibility of Rhys Ifans reprising his role as Curt Connors. Fans also know that we have looming Goblins in Dane DeHaan (who has been cast as Harry Osborn in the sequel) and Colm Feore – whom recently was added to the ensemble and, I'm convinced, will be revealed as the actor tapped to play Norman Osborn before too long.
There's simply no room for Venom in Amazing Spider-Man 2 … unless, of course, DeHaan's Harry Osborn steps into the role that Eddie Brock Jr. played in the Spider-Man comics. Yesterday was DeHaan's birthday after all, which helps explain why Webb hashtagged the Tweet with #happybirthday. But we're probably reading too deeply into that, begging for clues.
Here's a quick sprint through Eddie Brock Jr.'s backstory as it existed in the Ultimate Marvel Universe (which best fits what Webb appears to be putting together on screen). A university student, Brock was childhood friends with Peter Parker. Their fathers – brilliant scientists – worked together on a powerful suit that was meant to cure cancer. Peter and Eddie Jr. discover the material for the suit in a locker that looks very much like the one that Webb revealed on Twitter. It essentially mirrors Venom's birth, and could be another explanation for the #happybirthday hashtag Webb put on his Tweet.
Now, say that out loud for a moment. The photo that Webb himself shared. On Twitter. Do you really believe that the director of a massive studio blockbuster is going to spoil his own sequel through a Twitter photo? I can't accept that. Which is why I view the photograph of the locker as a calculated piece of misdirection that says just as much about Webb's approach as it doesn't say about the sequel.
You might recall Webb retweeting a column I wrote about the expansion of the Spider-Man universe on screen. "Think bigger" was the message Webb pulled out of that column and shared with his followers. The director is proving to be very open about his Spider-Man plans on Twitter. But I don't think he's being that open.
Do I believe Webb is setting up the Venom story? Absolutely, though I'm also beginning to think that they're going to sidestep Eddie Brock completely and just rewrite the storyline as Harry Osborn's arc. The pieces seem to be in place. Peter's dad worked for Harry's father at Oscorp. At some point in the the next Spidey sequel – or possibly even further down the line – we can learn that Richard Parker's research at Oscorp led to the creation of the Venom suit. We know that Norman Osborn is sick. That was revealed in The Amazing Spider-Man. But we don't know what ails him. Maybe it's cancer? That reveal would cement the eventual use of Venom, and in that instance, it would make more sense for DeHaan's version of Harry to want to wear the suit to possibly assist his father. It also has been suggested that Sony wants to do a spinoff Venom movie, which director Josh Trank once circled.
DeHaan, as you know, worked on the low-budget but extremely creative superhero film Chronicle with Trank. I mean, that's just too much symmetry to ignore.
But this all should happen down the road. If Webb (and Sony) wants to do this right, they need to do what the director has preached: Think bigger. But also, take the time to map all of this out, and don't cram Venom's origin into a sequel while also making room for a secondary villain (a la Sandman in Spider-Man 3). I swear that's what Webb is doing – planting several seeds for multiple villains who can be cultivated over time. And I still believe he's laying the groundwork for an eventual Sinister Six movie, but I'd be surprised if it happened immediately.
And I don't believe Webb spoiled his own sequel with a revelatory photographed shared on Twitter. Honestly, do you?
Sean O'Connell is a journalist and CinemaBlend's Managing Editor. He's frequently found on Twitter at @Sean_OConnell. ReelBlend cohost. A movie junkie who's Infatuated with comic-book films. Helped get the Snyder Cut released, then wrote a book about it.
Your Daily Blend of Entertainment News
Thank you for signing up to CinemaBlend. You will receive a verification email shortly.
There was a problem. Please refresh the page and try again.