The New Odds On Favorite to Become The Next James Bond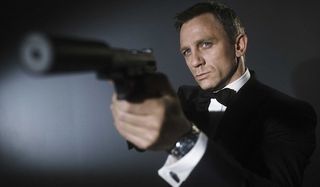 Daniel Craig can't be James Bond forever. He has already headlined the franchise in three films, with a fourth, Spectre, on the way. With the actor and producers teasing that he could potentially retire his impeccably tailored suit any day now, fans are placing bets as to who will take his place when the job is done. According to some new buzz, Damien Lewis has emerged as a likely contender.
This update doesn't come from any intrepid journalist, anything official from the studio, or even an interview response taken out of context and blown out of proportion. This comes from…bookmakers in the U.K. According to The Hollywood Reporter, William Hill revealed that it slashed its odds of the Homeland star becoming the next James Bond by more than 75%, from 25/1 to 3/1. This propels Lewis ahead of Idris Elba (5/2), Tom Hardy (4/1), Henry Cavill (5/1), and Michael Fassbender (7/1). While we may not know the intricacies or influences of U.K. bookmakers, this doesn't seem to be anything more than a friendly wager among friends.
Back in 2013, Lewis joked to The Telegraph that Skyfall "paved the way perfectly for a redheaded Bond" by introducing the Scottish heritage. He also told Esquire magazine that it would be "wonderful" if he could pick up the mantle, but he would cross the bridge when he got there.
Earlier this year, we were on the set of Spectre in Mexico City, where we spoke to producers Barbara Broccoli and Michael G. Wilson along with a crop of other journalists. In speaking about Craig's future as James Bond, they said that he has an "open-ended contract" and implied that he can decide which films to do on a case-by-case basis. As expected, their official statement was that they'd like for him to play the character forever, but as Broccoli noted, a role like this eats up an actor's life and most people have to be talked into it. Whether that's something Lewis is still interested in is beyond us, and there's not much evidence to suggest the actor is an actual contender. Even Elba, for whom fans have been campaigning to become the first black Bond, doesn't seem like a legitimate contender.
We still have a ways before we know if Craig will drop out of the franchise. Spectre is cutting it close with production for a November release. 007 will face someone from his past, as well as the villainous organization from the canon. Depending what the writers cook up next, Craig could still return for Bond 25, considering the films picked up again in popularity with Skyfall.
Don't like this choice? There are other names on the short list to replace Daniel Craig, in time. Let's talk them over.
Idris Elba
The man asked so frequently about Bond, he actually had to go on Twitter to cool down the rumors, Idris Elba continues to rank high on the bookie's charts. Part of it definitely is because fans are looking for a complete reinvention of the classic spy character, so going with a groundbreaking Bond of color would be a bold choice. Also, there's just the plain truth that Elba can carry himself like a badass, he looks incredible in suits, and if Her Majesty's Secret Service wanted to call him up, I think the 007 fanbase could get behind his casting.
Tom Hardy
Like Bond, Tom Hardy's a man of few words and brutal action. He has proven the ability to step into an iconic role and carry a sequel. (You saw Mad Max: Fury Road, right?) But one of the few times he tried a full-on tentpole actioner with This Means War, audiences kind of stayed away. Like a lot of the names on this list, Hardy is very comfortable as a character actor in challenging and bizarre roles. Even when he does a superhero movie, he plays a villain whose face is obscured the entire time. Could he play James Bond? No doubt. Would he? That's a different question.
Henry Cavill
Now this one is intriguing. Henry Cavill looks like he was born to play Bond. But of course, he's very busy playing an American icon in Superman. But he's about to dabble in espionage with Guy Ritchie's The Man from U.N.C.L.E., and if audiences eat that up, then a potential future as 007 has to be considered. Obviously, his schedule is packed. But like dessert, there's always room for Bond.
Michael Fassbender
The brilliant Fassbender is concluding his run as Magneto… as far as we know. Like the others on this list, Fassbender loves challenging himself in gritty films with unique directors. What if he and Shame director Steve McQueen decided to deconstruct the 007 formula? Or if he lured Inglourious Basterds director Quentin Tarantino to the James Bond universe. The possibilities sound endless!
This poll is no longer available.
Your Daily Blend of Entertainment News
Thank you for signing up to CinemaBlend. You will receive a verification email shortly.
There was a problem. Please refresh the page and try again.