Why X-Men Fans Might Not Like Apocalypse, According To Oscar Isaac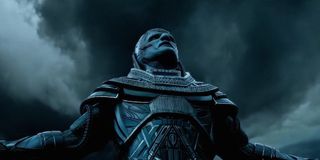 From what we've seen and read about him, Apocalypse is going to be a force to be reckoned with next year, but that hasn't given him a pass from scrutiny. Early pictures of the mutant powerhouse in X-Men: Apocalypse drew criticism for him being too purple and Ivan Ooze-y, but thankfully the new trailer showed that he'll be the more familiar shade of blue. However, now his actor, Oscar Isaac, has gone on record saying that not everyone might be on board with this interpretation of the character.
Pointing out how many different versions of Apocalypse there are, Isaac admitted to Black Film that X-Men: Apocalypse's version of the antagonist may not be someone that everyone is keen on, though he's satisfied with how the character turned out. Isaac said:
Isaac went on to say that director Bryan Singer and producer Simon Kinberg's version of Apocalypse "took inspiration from many sources" and used the one they found most interesting. Like other big comic book heroes and villains, it's safe to say that Apocalypse has a decently-sized fanbase. If fans didn't read about him in comic storylines like Age of Apocalypse or X-Factor, then they were familiar with him from shows like X-Men: The Animated Series or video games like X-Men: Legends II: Rise of Apocalypse. Superhero movies usually like to mix and match elements from different areas of a property's history rather than directly adapt a story or character, so to hear that this Apocalypse won't be based on one specific version isn't terribly surprising. If fans are lucky, Oscar Isaac's Apocalypse will be great to watch on the big screen. And, for those who don't like him, they can always take comfort knowing their ideal version can still be read/watched.
While it's still unclear whether the alien aspects of his origin are being kept intact for X-Men: Apocalypse, for the most part it appears that the cinematic Apocalypse is staying relatively faithful to the majority of his other media counterparts. Believed to be the world's first mutant, he was considered a god in ancient Egypt. After slumbering for thousands of years, he'll awake and attempt to build a new world order with the help of his Four Horsemen. Judging by that brief scene in the trailer of him growing large, it appears his molecular manipulation powers are also still intact, though he's also been given the ability to control the minds of other mutants.
Apocalypse will throw 1980s society into chaos when X-Men: Apocalypse hits theaters on May 27, 2016.
Your Daily Blend of Entertainment News
Connoisseur of Marvel, DC, Star Wars, John Wick, MonsterVerse and Doctor Who lore. He's aware he looks like Harry Potter and Clark Kent.