Winning An Oscar Has An Ugly Personal Life Effect On Many Men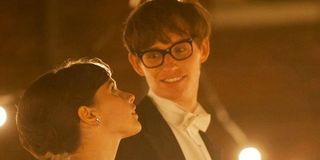 Eddie Redmayne and J.K. Simmons must surely have woken up feeling pretty good this morning. The pair took home the Academy Awards for Best Actor and Best Supporting Actor for their appearances in The Theory Of Everything and Whiplash last night, and it's hard to imagine the positive feeling generated from that kind of event fades fast. However, a warning shot has since been fired, because a new study has revealed that Oscar success could have a detrimental effect on an actor's personal lives.
Specifically, actors who win Oscars are apparently 3x more likely to get divorced during their first year of marriage. According to a new study conducted by Michael Jensen, who is a strategy professor at the University of Michigan's Ross School of Business, the personal lives. In a recent interview with LiveScience, Jensen revealed a trend that shows that the kind of success that comes with winning an Oscar also apparently leads to an increase in the likelihood of a winner splitting from their significant other. He explained,"Moving up and suddenly becoming a big shot increases the likelihood of getting a divorce."
Wow. What a total party-pooper. Maybe David Oyelowo was lucky not have been nominated for his Selma performance after all.
According to the report, previous research explains that men have a tendency to react more strongly to the spoils that come their way as the result of success, which can include increases in opportunities to have affairs. Unfortunately, Jenson also explained that thing's aren't much better for the men who are nominated and then don't win, as they apparently suffer from the same degree of struggle to adjust to coming so close to claiming such an elusive prize. The researcher explained,
Still, I think it's safe to say that, at the moment, both J.K. Simmons and Eddie Redmayne are feeling quite OK with the fact that they came out victorious last night. Plus, they both seem like stand-up guys who wouldn't even dream of cheating on their better halves. J.K. Simmons has been married to Michelle Schumacher for close to twenty years, and they have children together. Plus, I'm guessing he'll have had practice in turning away these advances after all of the groupies that emerged following his turn as J. Jonah Jameson in Sam Raimi's Spider-Man films.
But could Eddie Redmayne be tempted? I mean, at 33-years-old he's sickeningly young to have picked up a Best Actor Oscar. In fact he is the 8th youngest actor to have been awarded the accolade in the Academy's history. But Redmayne only exchanged vows with Hannah Bagshawe at the end of 2014, so one can perhaps assume that his marriage bond is incredibly strong at the moment.
Still, it's probably best that everyone keeps an eye on the Academy Award nominees and victors for the time being though. And just to be on the safe-side, you probably shouldn't overtly flirt with any of them if you happen to pass them on the street. Because, if you do, you'll probably turn into a home-wrecker. And no-one wants that.
Your Daily Blend of Entertainment News