Woman Arrested For Keeping Monster-In-Law Rental For Nine Years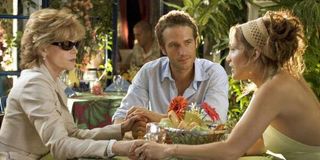 Did you know you can be arrested for keeping a video rental? A South Carolina woman learned that the hard way when cops threw her in jail for failure to return a copy of Monster-in-Law to her local video store.
THR reports 27-year-old Kayla Finley of Pickens, South Carolina was taken into custody last week for failure to return a video rental to Dalton Video. Pickens had rented Monster-In-Law back in 2005, and though it was a 72-hour-rental, she held onto it for nine years and counting. Turns out, it's not just bad renter etiquette. It's a misdemeanor, petty larceny in fact.
Dalton Video reportedly sent Finely a series of letters demanding the return of Monster-in-Law, but they seem to have gone ignored. When Finley failed to return the Jennifer Lopez vehicle, Dalton Video filed a complaint with cops and a certified warrant went into effect on September 12th, 2005. A copy of this warrant was sent to Finley, and also overlooked. Of course, as stealing a copy of a lame movie isn't exactly high priority for the police, they never actively sought Finley out. Even though the video store in question has since gone out of business, Finley's warrant was still active when she went to the police station on Thursday, February 13th, to file a criminal complaint of her own. She was arrested on sight, and made to spend the night in jail. After paying $2,000 in bail Friday morning, she was released on her own recognizance.
This is obviously very embarrassing. Aside from this minor offence, Finley has a record so clean that her crime went undetected for nearly a decade. And it's a crime so silly--especially in a day and age of streaming video --that it's making headlines and making countless people associate her with a pretty embarrassingly bad movie. Directed by the hack Robert Luketic, Monster-In-Law played on that tired trope of brides-to-be warring with their soon-to-be mother-in-laws. In this instance J.Lo faced off against Jane Fonda for the love of Michael Vartan. But despite being loathed by critics, this $43 million comedy was a hit, pulling in $82 million domestic, and $154 mil worldwide.
Finley has since spoken out about the charges against her. She wants you to know she's not just so crazy about Monster-In-Law that she couldn't bear to part with it. She insists she never received the warnings or the warrant, and forgot she had the movie at all. She has said via Facebook, "It's obvious that Pickens County has nothing better to do. I fully intend on fighting this, it's ridiculous that this had to happen to me."
Honestly, after having her name and face splashed in connection with Monster-In-Law in national news, hasn't she been punished enough?
Your Daily Blend of Entertainment News
Staff writer at CinemaBlend.