Woody Allen's Blue Jasmine Reveals Its Full Cast And Plot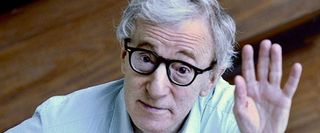 In 2011, Woody Allen earned a revival in relevance and praise thanks to his nostalgic romance Midnight in Paris, which not only earned Allen a Best Director Oscar nod and a win for Best Original Screenplay, but also made a whopping $150 million worldwide. His follow-up, To Rome With Love, was not too warmly received by critics (okay, they hated it), but it still made an impressive $73 million worldwide. Now, Sony Classics, which distributed both of the above, is prepping the path for the domestic release of Allen's recently wrapped latest, revealing its title, cast and--at long last--its plotline.
The comedy, called Blue Jasmine, shot in various locations in New York and California, and it tells the story of "the final stages of an acute crisis and a life of a fashionable New York housewife." As per usual, Allen's scored a batch of curious cast members for his enticing ensemble, including Alec Baldwin, Cate Blanchett, Bobby Cannavale, Louis C.K., Andrew Dice Clay, Sally Hawkins, Peter Sarsgaard and Michael Stuhlbarg. Sadly, aside from guessing it might be Blanchett who played the aforementioned protagonist, we have no information in the way of what roles these performers play.
Even knowing little about the plot, I'm admittedly intrigued by Blue Jasmine. For one thing, it's good to see the filmmaker whose early work was oft inspired by New York return to his home turf. Beyond that, the mind reels at what kind of movie features Oscar-winning leading lady Cate Blanchett and has-been tough guy comedian Andrew Dice Clay. I don't know what to expect, and that's part of Blue Jasmine's allure.
Blue Jasmine is expected to hit theaters later this year.
Your Daily Blend of Entertainment News
Staff writer at CinemaBlend.