The Words Will Flow On To Blu-ray On December 24th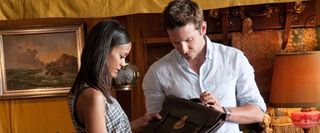 It's hard to explain The Words without giving too much away and going into too much plot detail. If you've seen the trailer, you probably already know more than you should about the crazy, artsy thriller, but if you didn't already catch it in theaters, or are a fan of Bradley Cooper, you'll be able to catch the film when it hits Blu-ray and DVD on December 24.
December 24th seems like a terrible day to release a film on Blu-ray and DVD. I don't understand why Sony Pictures Home Entertainment is banking on all of those holiday gift givers who wait until the last minute to purchase to buy a copy. Even if I was a huge fan or knew of a huge fan of the flick, I would certainly not bank on The Words as a holiday gift. Even if I pre-ordered, I would worry the set wouldn't show up on time. Then again, I usually have stuff gift wrapped days ahead of the holidays, so maybe Sony knows its target demographic better than I do.
If you did enjoy The Words, the film will come with both the theatrical and extended versions of the film, the latter of which may help audiences to answer any lingering questions they have with the plot. Additionally, both the DVD and Blu-ray copies of the film will come with a few featurettes, although the Blu-ray will boast more bonus features, including a couple of segments looking at specific character's relationships. You can check out the full list of extras, below.
The Words DVD Extended Special Edition Extras
Extended version of The Words
"Unabridged: A Look Behind the Scenes of The Words"
"A Gentleman's Agreement"
The Words Blu-ray Extended Special Edition Extras
Extended version of The Words
All of the DVD Extras
"Clay and Daniella"
"The Young Man and Celia"
Amazing Race & Top Chef superfan with a pinch of Disney fairy dust thrown in. If you've created a rom-com I've probably watched it.