World War Z 2 Just Suffered A Major Setback, Get The Details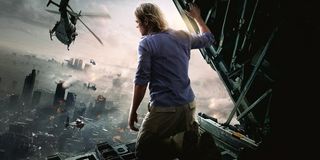 When World War Z became a surprise hit of 2013's summer box office, Paramount not only felt vindicated in their decision to retool the film's third act, they immediately wanted another round of zombie madness. Fast forward to the present, which shows the studio's resolve strong as ever to deliver World War Z 2 to its awaiting public, but leaves the project about to suffer some possible delays. The reason being that director Juan Antonio Bayona has literally just left the project.
Deadline has reported that Bayona, best known for such films as The Orphanage and The Impossible, backed out of World War Z 2, in order to allegedly fulfill commitments to his currently wrapping film, A Monster Calls. Paramount's official confirmation of the director's departure also came with the following official party line:
With his current project due out in October of this year, it's no surprise that Bayona would want to spend some extra time putting together his literary adaptation. But could it be the director's only motivation?
Further along in the report, it is stated that Juan Antonio Bayona could be a strong candidate for the Jurassic World sequel, as that project is looking to land itself a helmer pretty soon. While this is probably rampant speculation from the source of this information, it doesn't sound completely ridiculous. Seeing as A Monster Calls is set up at Focus Features, which is a production subsidiary of Universal Pictures, it wouldn't be odd for Bayona to back out of the more uncertain prospect in the name of a fan favorite cash machine.
Of course, the big problem with Paramount's plans for World War Z 2 making its production deadline is the fact that they'll need to woo a director – and fast. While potential candidates aren't being named just yet, it wouldn't hurt to start throwing a couple of prime names around in order to help aid the hiring process. For starters, we'd like to suggest David Robert Mitchell, the director of It Follows. With a handle on omnipresent feelings of dread, as well as atmospheric – yet visceral – scares; we think his approach could give the sequel a leg up on its predecessor. Also, it'd be nice to see a horror director try to make a true horror sequel to the first, more action-packed, film.
But say Paramount wants to continue down the action route for World War Z 2. Well, it wouldn't be hard to call up Joe Carnahan to come in and amp up the body count, and maybe even the blood, in Brad Pitt's next round of zombie carnage. Also, there's a good chance that Carnahan collaborator Ray Liotta could be invited to join in on the undead mayhem. Seeing Liotta laying out the recently deceased is something we've wanted to see again since that Call Of Duty DLC featuring him doing just that, so if Bad Boys 3 falls through, this could be an extremely lucrative possibility.
The last possibility is one that goes back to the well, as Marc Forster is currently wrapping his latest project, All I See Is You. Which means that the director of the first adaptation of Max Brooks' seminal work in modern zombie lore could come back, bringing us some more of the same in the name of continuity. If we were to choose an option, it would be a toss up between Mitchell and Carnahan, as both filmmakers have unique voices that can handle frenetic action with great aplomb. But forced to choose, Mitchell gets our stamp of approval.
We'll be keeping a close eye on the World War Z 2 director's chair, reporting whoever fills the seat as soon as we find out. In the meantime, keep in mind that the film is due for a June 9, 2017 release date; so that announcement will probably be coming sooner than later.
Senior Movies Contributor
CinemaBlend's James Bond (expert). Also versed in Large Scale Aggressors, time travel, and Guillermo del Toro. He fights for The User.
Your Daily Blend of Entertainment News
Thank you for signing up to CinemaBlend. You will receive a verification email shortly.
There was a problem. Please refresh the page and try again.