X-Men: Apocalypse's Precise Setting Has Been Revealed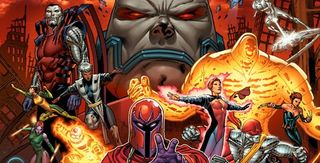 The X-Men franchise has had quite a bit of fun playing around with history, X-Men Origins: Wolverine bringing us back to the last 1970s, X-Men: First Class being set in 1962 and X-Men: Days of Future Past taking audiences to 1973. We've known for a while now that X-Men: Apocalypse would be continuing this trend, director Bryan Singer revealing in March that the film would be set during the 1980s. Now, however, that date has gotten quite a bit more specific.
Comic Book Movie has picked up a tidbit from the latest episode of The Q&A with Jeff Goldsmith where guest writer/producer Simon Kinberg has revealed that X-Men: Apocalypse will be set in the year 1983. Those of you keeping track will note that this is 10 years after the events of X-Men: Days of Future Past. This means that while the X-Men: First Class cast - like James McAvoy, Michael Fassbender, Jennifer Lawrence and Nicholas Hoult - will be continuing their roles, they will also be playing characters 21 years older than when we first met them. It may finally be time for Magneto to start sprouting some grey hair and for Professor X to start losing his. Mystique and Beast presumably won't be affected on the same level, but that's only because their costumes require so much makeup anyway.
Being set in the early 1980s opens up a lot of options for X-Men: Apocalypse, but easily the most significant is what can be done with younger versions of classic characters. Jean Grey, Cyclops, Storm and other notable mutants were all flocking to Xavier's School for Gifted Youngsters around that time period, and presumably part of the plot of the new movie will have them enrolling and learning how to hone their powers. There are some other elements to think about, however...
SPOILER WARNING: If you haven't seen X-Men: Days of Future Past yet, you might want to be careful about reading the rest of this article!
Those who have seen the latest X-Men movie know that the end of the film completely rewrites every bit of continuity established over the last 14 years, meaning that a 10 year jump in the timeline from 1973 to 1983 could be very big. How did the Sentinel program stoppage affect the world as a whole? Did things become more harmonious between humans and mutants, or are things just as bad as they ever were? And what happens after Mystique takes Wolverine away on that boat? Will he still go through the Weapon X program and get his Adamantium claws? X-Men fans everywhere are dying to know the answers to these questions, but it will probably be a good long while until we actually get them.
X-Men: Apocalypse is currently on the release schedule for May 27, 2016 (almost exactly two years after the release of X-Men: Days of Future Past), which means that production will likely start up some time early next year.
Assistant Managing Editor
NJ native who calls LA home and lives in a Dreamatorium. A decade-plus CinemaBlend veteran who is endlessly enthusiastic about the career he's dreamt of since seventh grade.
Your Daily Blend of Entertainment News
Thank you for signing up to CinemaBlend. You will receive a verification email shortly.
There was a problem. Please refresh the page and try again.