X-Men: Someone Made A Giant, Homemade Juggernaut Costume And It's Awesome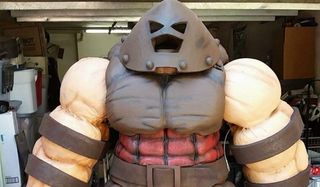 While Juggernaut has only made one appearance in the X-Men cinematic franchise, he's still one of the most popular characters in the history of the comic-book series. A humongous X-Men fan has now taken to Facebook to celebrate his love of the mutant by uploading various images of a huge Juggernaut costume that he's created. And it's absolutely incredible.
Kudos to Bryan Doell, who is obviously a very talented individual. Doell, who according to his Facebook page works as a Prop and Costume Artist at BMP PROPS, admitted that he's been talking for two years about creating the life size costume of Juggernaut. Writing on Facebook, he also revealed that it was "100% scratch built, hand carved, freehanded, gigantic awesomeness."
After creating the costume, Bryan Doell then travelled to the 2016 MegaCon in Orlando to show off his work. Suffice to say, Doell soon turned into the talk of MegaCon because of his cosplay effort. In fact, he managed to get a glorious picture of himself in the costume alongside Stan Lee, who just so happened to create Juggernaut with Jack Kirby.
Soon Bryan Doell had even more reasons for celebration. That's because later that night, he was awarded MegaCon Orlando's Costume Contest Award for Best Comic Book Costume. That was hardly surprising considering just how much effort and how impressive his statuesque costume was.
Vinnie Jones made Juggernaut's first, and so far only, appearance in the X-Men franchise back in 2006's The Last Stand. Bryan Singer considered introducing a young Juggernaut into X-Men: Days Of Future Past, where he would have been played by Josh Helman. However, the character was eventually replaced by Evan Peters' Quicksilver in the scene.
Bryan Doell has been providing plenty of updates on Facebook to show off his Juggernaut costume in all of its glory, which has also included a race between himself and another enormous Cosplay outfit. I, for one, believe this should instantly become an Olympic sport now.
In fact, Bryan Doell's Juggernaut creation is so impresive that it already lives longer in the memory that Vinnie Jones' turn as the character in X-Men: The Last Stand.
Your Daily Blend of Entertainment News
Your Daily Blend of Entertainment News
Thank you for signing up to CinemaBlend. You will receive a verification email shortly.
There was a problem. Please refresh the page and try again.