Yet Another Superstar Says He Wants To Play James Bond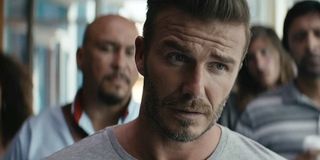 When Spectre opens later this fall, over a span of more than 50 years, six actors will have played James Bond in 24 films (seven and 25, respectively, if you count the 1967 Casino Royale). Due to the nature of the character and the continual turnover, there's constant talk of who should carry the torch next, and while there is no shortage of volunteers, one unexpected celebrity is considering playing the part: David Beckham.
The talk of a new Bond is obviously intensified as the release for Spectre approaches, but according to a report in the Mirror, David Beckham is "seriously considering" taking the role of the world's most famous spy. The legendary soccer star started to think about stepping forward and throwing his hat into the Bond ring as a result of vocal fans on social media encouraging him to take the plunge.
Before you start shouting this from the rooftops, proclaiming David Beckham the heir apparent to the James Bond throne, take a second to breathe and consider that a number of things will need to happen for this to go down. First, Daniel Craig will have to vacate the role, and second, the producers will have to actually decide they want he 40-year-old former athlete to take the part, offer it to him, and work our a contract he'll have to sign.
For Craig's part, that could happen. Spectre marks his fourth film in his heralded run as the iconic spy, and while he hasn't closed the door to playing Bond again in the future, he hasn't exactly come out and said, "Oh hell yeah, I'm totally going to play James Bond again." He reportedly has an open contract, and producers have indicated he can play the part as long as he damn well pleases.
While Becks has appeared in numerous commercials and as himself, his acting career is still in its infancy, with only a handful of credited roles under his belt. He showed up just last month as "Projectionist" in Guy Ritchie's spy romp The Man From U.N.C.L.E., and his biggest part will be in Ritchie's upcoming Knights of the Round Table: King Arthur. But it's not exactly a headlining role, as he plays a super gross knight with broken, rotten teeth, and only a few lines. Talking about the part, Beckham said:
As he admits he was hugely nervous on set, jumping from a part with 13 lines to playing one of the most beloved movie characters of all time, one who is almost always on screen and has to carry a movie, might be a bit of an unreasonable leap to make at this juncture.
But don't weep for the future of James Bond. There will always be someone willing to play the international man of mystery, as well as names like Idris Elba and Hugh Jackman that will be bandied about in relation to the role, realistically or not. Spectre hits theaters November 6.
Your Daily Blend of Entertainment News