If You Want Star Wars Footage, You'll Need To See This Movie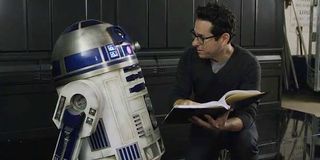 Earlier this week, the universe celebrated as the promise of a soon-to-hit trailer for Star Wars: Episode VII - The Force Awakens was made. Now we know where you'll need to go to see it. Good news! It's not going to be difficult.
Star Wars VII News has received word that a Star Wars: Episode VII - The Force Awakens teaser may very well play before The Hobbit: The Battle of the Five Armies when the film hits theaters on December 17th. Nearly a year to the day ahead of the former film's slated release date.
This hot tip came courtesy of a theater manager who said he expected the teaser for the latest Star Wars installment would be included on the final Hobbit movie. While The Hunger Games: Mockingjay - Part 1 would be a similarly grand stage on which to unveil the first footage of Star Wars: Episode VII - The Force Awakens, the manager reportedly sniffed at the idea, pointing out that companies like Disney (Star Wars' distributor) rarely cross-promote in that way. Of course, Disney wouldn't have to cross-promote if they unveiled the teaser in front of their December 25th release, Into the Woods. But something tells us that demographic won't have as much crossover with Star Wars fanatics as The Hobbit will.
This suggested debut would fall in line with former reports that the first footage from the J.J. Abrams-directed Star Wars sequel would hit within the next four-five weeks. Adding to Star Wars VII News' hypothesis, the site notes that the following Tweet about a conversation with Star Wars: Episode VII - The Force Awakens first assistant director was deleted--along with the entire account.
On top of all that, reports say that Hobbit director Peter Jackson recently made a visit to the set of Star Wars: Episode VII - The Force Awakens, so in a certain conspiracy theory way, it all adds up. But with the film not being set to hit theaters until December 18th, 2015, what will this teaser trailer dare to share? It's suspected that classic theme, plus perhaps brief glimpses of the in-costume cast that includes Carrie Fisher, Harrison Ford, Mark Hamill, Andy Serkis, Domhnall Gleeson, Gwendoline Christie, Adam Driver, Oscar Isaac, Lupita Nyong'o, Max von Sydow, John Boyega, Peter Mayhew, Daisy Ridley and Warwick Davis.
We'll keep you posted as more develops.
Staff writer at CinemaBlend.